Voici des témoignages écrits par des femmes agissant à titre d'aidants-naturels auprès des hommes affectés par le cancer de la prostate. Vous pouvez nous envoyer votre témoignage en nous écrivant à info@procure.ca
---
Pour faire un commentaire sur un article, vous n'avez qu'à cliquer sur le titre.
by M.L.
My father was diagnosed with prostate cancer in 1994, when he was 65 and I was 29. There is no question that my first reaction upon hearing the news was outright fear. To some extent, it was news I found hard to believe, but when I did think about it, I was afraid. I also did not, at least in the beginning, seek out too much information on the subject of prostate cancer — it seemed that to do so was to admit it was all real. However, as soon as we found out about my father's cancer, it seemed that it was all around me: my uncle (my father's younger brother) was diagnosed soon after, and I found out that my (then new) boyfriend's father had recently had surgery to remove his prostate.
by Leah Carson
The message from my husband Ben on my answering machine at work said : "It's cancer. I will probably need surgery, which will result in 95% temporary incontinence and a significant chance of erectile dysfunction, depending on the outcome of surgery. With surgery, my prognosis for cure is about 85%." My husband has always believed in being honest, but this time, he had outdone himself. I have been a health care professional for many years, yet nothing in my career spared me from the waves of feelings and emotions that rushed over me. I felt a fear for my husband's survival. I had thoughts of him suffering physically, and emotionally. Questions about our future ran through my thoughts. How would we absorb the impact of this experience?
by Line Gignac Burns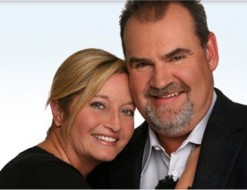 The journey I have had to take with my husband over the past few years has been incredibly instructive and formative. Together, we had to discover the different steps to take with specialists as we learned to deal with my husband's disease. Our experiences and discoveries all led to the same conclusion: that prevention was key.
It's prevention that saves and prolongs lives — that 's the most important lesson we've learned. The two of us also learned that we could get far more accomplished together than was possible for my husband on his own. You have to lend a hand, share what you learn, and enable others to benefit in order to create a stronger community better equipped to fight disease. We are all part of the same community, the human race, and we must help each other if we are to strengthen and prolong our lives.
Here's wishing you all a good life!