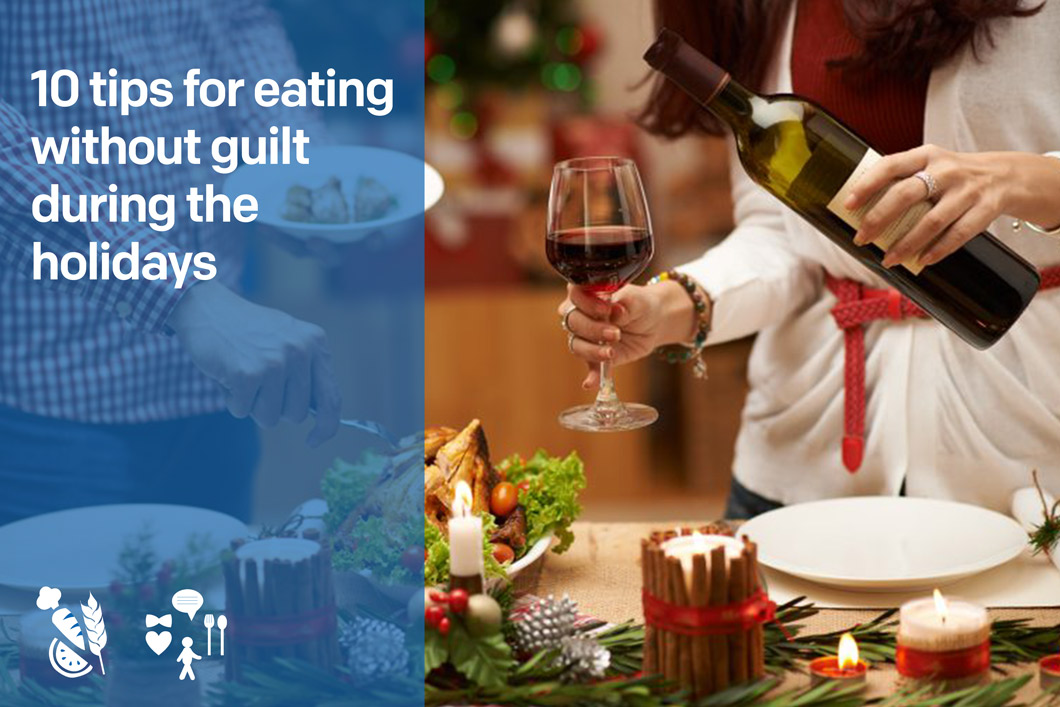 December 15, 2016
10 tips for eating without guilt during the holidays
As the holiday season is approaching, one should remember that moderation tastes better, especially after a prostate cancer treatment.
Here are a few tips to help enjoy the festivities while avoiding those things that would be detrimental to your health.
Avoid over-limiting yourself
First of all, it must be mentioned that setting too many limits for yourself after a prostate cancer treatment does not make sense. The restrictions will spoil the taste of food and only frustrate you more than anything else – which will make you want to eat even more. Your goal should be only to avoid the food that is too voluminous or rich. The way to do that is by following a few tips to help reduce over-excitement.
Do not use the holiday season as an excuse too much
Yes, the holiday season is upon us, but that does not mean dedicating yourself to food entirely. To avoid excesses, frustration, and over-limiting yourself, taste everything – but everything in moderation. Choose smaller portions and take your time to appreciate the taste and chew your food before swallowing it. This way, you will full faster and indulge yourself less.
Use small plates
One way to smaller portions is smaller plates. They will make your portions appear larger than when placed on a bigger plate.
Keep your distance from food
When at a party or reception, being closer to the food would mean more temptation. Stay away from the buffet area and head to the fireplace or the dance floor instead. Being there will allow you to have some good conversation or burn a few calories.
Keep fibres in mind
Fibers are great sources of protein. They also help you feel full faster, which is another reason to include them in your holiday diet after prostate cancer. Balance your holiday diet with whole grains, nuts, and legumes (such as red beans).
Keep an eye on the butter
Butter, which is very rich in fatty acids, is the sworn enemy of any diet. Therefore, why not go Italian and serve bread with small saucers of a quality olive oil instead of butter? When dining out, simply ask your server to make the substitution.
Other items to avoid
Some other food to be avoided are pralines, garnishes, and sauces, as well as desserts, all of which should be consumed in moderation. If you can't resist having a dessert, opt for something made of fruit or low in fat (such as a low fat whipped cream). If you cannot get a dessert like that, make your escape.
Finally, do not forget that because it is rich in sugars and calories, alcohol can affect your weight too. This is why it's important to control alcohol consumption – perhaps, consult some of the Quebec Alcohol Corporation (SAQ) publications.
Do not stress out
Remember that what matters is having fun and feeling good about yourself. Above all – do not let feeling too guilty prevent you from having a good time.