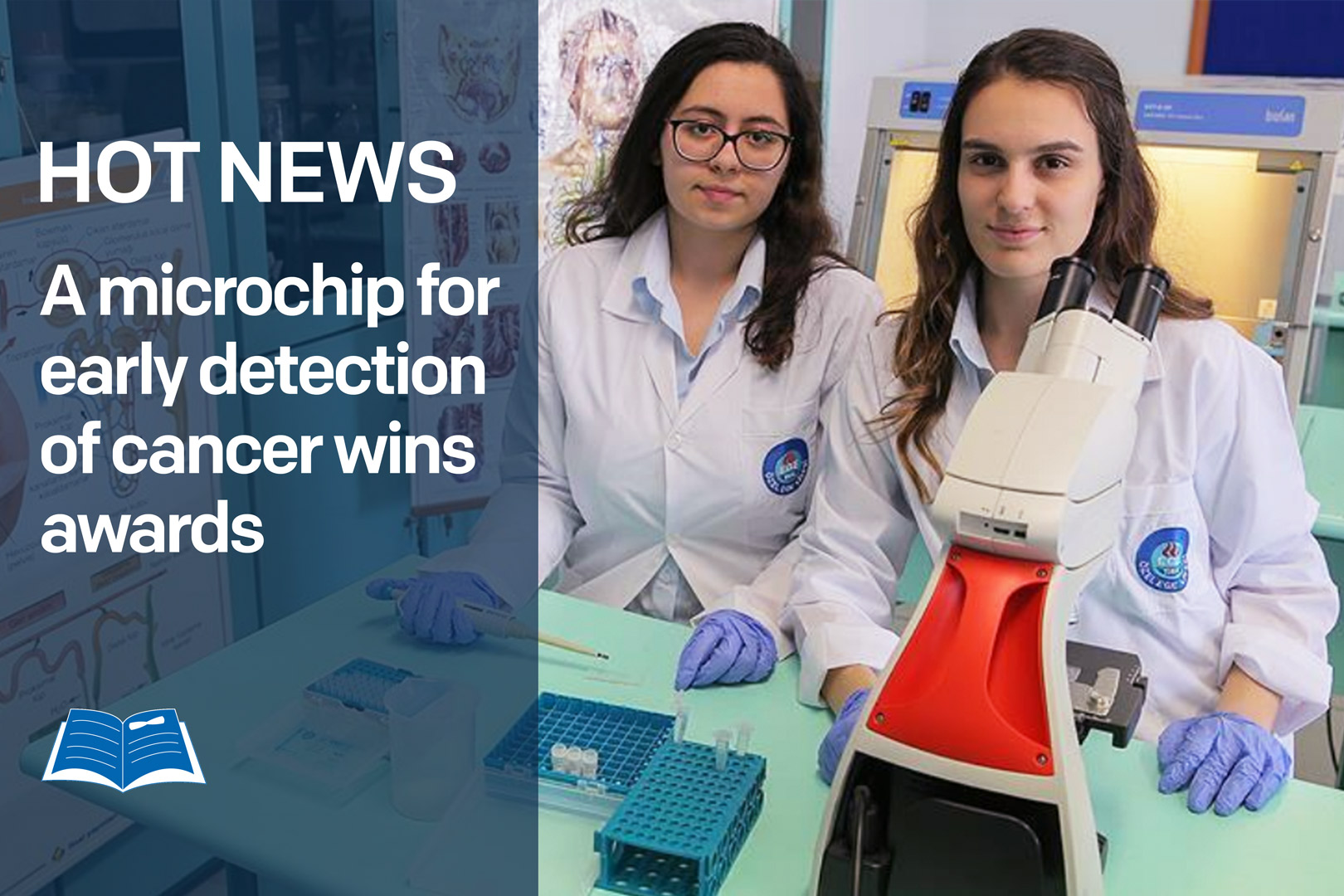 May 24, 2018
A microchip for early detection of cancer wins awards
Developed by students from western Turkey, the microchip has won quite prestigious awards in the United States and Europe. Berna Akdeniz and Leyla Al Masoud - chip processors in Izmir, western Turkey - decided to study early diagnosis of cancer in 2016 and a year later, the duo developed a microfluidic chip for early detection of cancer such as lung, breast and prostate cancers.
The first cancer detection chip was among the winning projects in the 2017 SciChallenge competition. The Akdeniz and Al Masoud project was ahead of 438 projects in the scientific competition - supported by the European Union (EU).
The project also won the third prize in the field of biomedical engineering at the International Fair of Science and Engineering held in mid-May in Pittsburgh, United States.
Speaking to Anadolu Agency, Al Masoud said she did not think they were getting as much success: "We have developed two microfluidic chips for the early diagnosis of lung, breast and prostate cancers, and then, when we pipette any fluid sample taken from the body into microfluidic chips, we can see the results," adding that one can thus identify the presence of cancer cells.
"Our system works on two levels: the first level is a general cancer screening test and in the second, we observe the type of cancer, ie lung, breast or prostate cancer."
Akdeniz, Al Masoud's teammate said: "Cancer treatment is a long process for patients and doctors, and with early diagnosis, patients now have a greater chance of survival. "
Posted in Science and Technology - May 2018
---
Take the time to visit each of our pages on this website, as well as our YouTube channel, in order to get familiar with the disease with our expert lectures, our section on available resources, the support that is offered to you.
Do you have any questions or concerns? Above all, do not hesitate. Contact us at 1 855 899-2873 to discuss with a nurse specializing in uro-oncology. It's simple and free, like all our services.
Pages of our site that might interest you
Want to know more? Just click on one of the links below.
Recognize the signs and symptoms
Prostate-related diseases
PROCURE news that may interest you
Each week, we publish a blog article. Here are a few for you.
Prostate Cancer: Did You Say Zero Symptoms?
Top 5 Men's Health Risks
PSA Test: Yes, No, Maybe?
Written by PROCURE. © All rights reserved - 2020