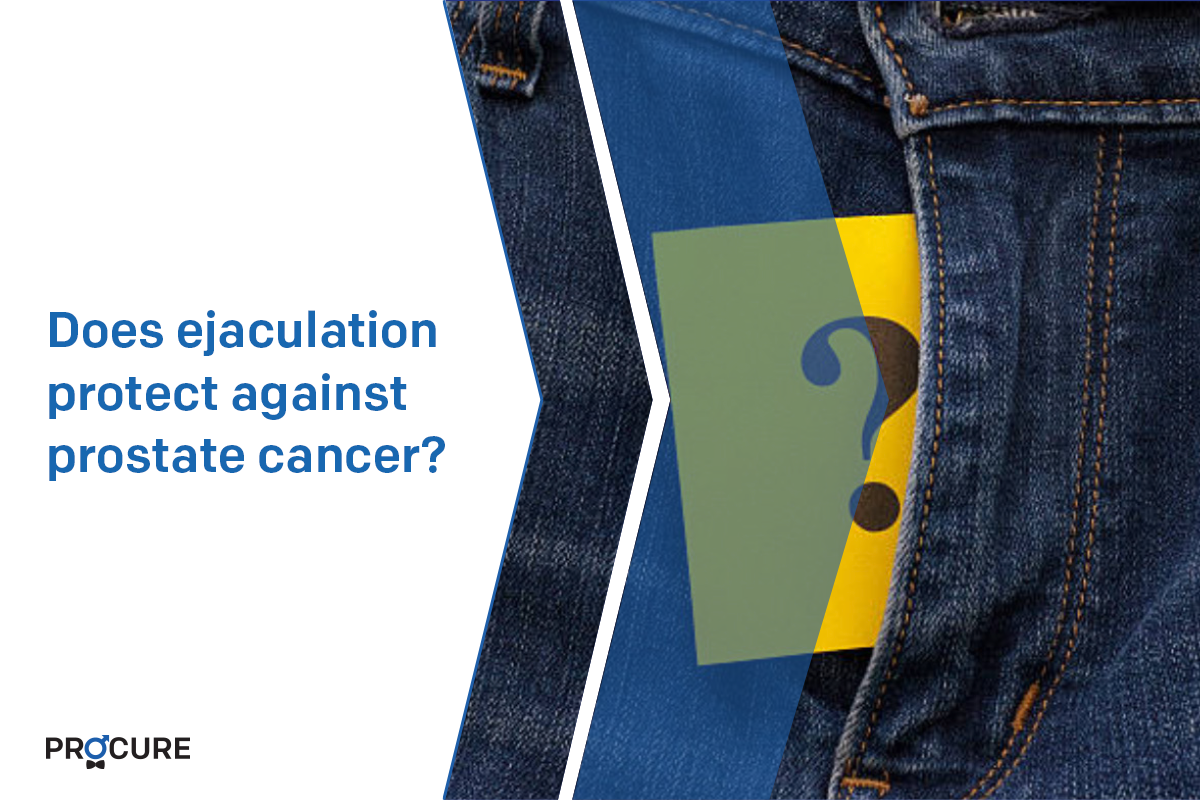 September 20, 2020
Does ejaculation protect against prostate cancer?
One American study published in 2016 found that men who reported more than 21 ejaculations per month had a 31 percent lower risk of prostate cancer than men who reported four to seven ejaculations a month. So does ejaculation protect against prostate cancer? Other studies looking for a link between ejaculation frequency and prostate cancer have yielded conflicting results, however. Still, sex is good for your health, so enjoy it!
---
For reasons not fully known, ejaculating more may lower the risk of prostate cancer.
Source: Dr. Anne Calvaresi, Chair of the Urology Care Foundation's Prostate Health Committee.
Ejaculating after all, based upon some studies, through sexual intercourse or masturbation, does not seem to protect against higher-risk prostate cancers. The studies do not sort out between ejaculating during sexual intercourse or masturbation, and the effect of each on prostate cancer.
One study followed 32,000 men for 18 years in the US. It found men who ejaculated the most (at least 21 times a month) had a 20% lower chance of prostate cancer vs. those who ejaculated 4 to 7 times a month. The more the number increased per month, the lower their risk. Other studies have found ejaculation rate has no impact on prostate cancer rates.
Ejaculation may protect the prostate by flushing out harmful chemicals that build up in semen. It is also possible ejaculation does not actually protect against prostate cancer. Men who ejaculate more may have healthier lifestyle habits that decrease their odds of being diagnosed with the disease. Additionally, ejaculating may only reduce the risk in men in certain age groups.
The bottom line is more research is needed before we know for sure whether more ejaculation reduces the risk of prostate cancer.
The Urology Care Foundation is the Official Foundation of the American Urological Association (AUA)
Sources and references
European Urology: "Ejaculation Frequency and Risk of Prostate Cancer."
Harvard Health Publications, Harvard Medical School: "Ejaculation Frequency and Prostate Cancer."
Sexual Medicine Reviews: "Evidence for Masturbation and Prostate Cancer Risk: Do We Have a Verdict?"
Urologic Oncology: "Ejaculatory frequency and the risk of aggressive prostate cancer: Findings from a case-control study."
Journal of Sexual Medicine: "The Relative Health Benefits of Different Sexual Activities."
---
Take the time to visit each of our pages on this website, as well as our YouTube channel, in order to get familiar with the disease with our expert lectures, our section on available resources, the support that is offered to you.
Do you have any questions or concerns? Above all, do not hesitate. Contact us at 1 855 899-2873 to discuss with a nurse specializing in uro-oncology. It's simple and free, like all our services.
Our September 2020 awareness campaign
September is Prostate Cancer Awareness Month.
In September, PROCURE demystifies the prostate!
Pages of our site that might interest you
Want to know more? Just click on one of the links below.
Are you at risk?
Prostate-related diseases
The latest PROCURE news that might interest you
Every week we publish a blog article. Here are some we chose for you.
Natural products to improve erections – Pros & Cons
Do Aphrodisiac diets exist?
Erectile dysfunction: frustrating, but treatable!
Sex and intimacy: Discussing it openly is good for your health!
Written by PROCURE. © All rights reserved - 2020