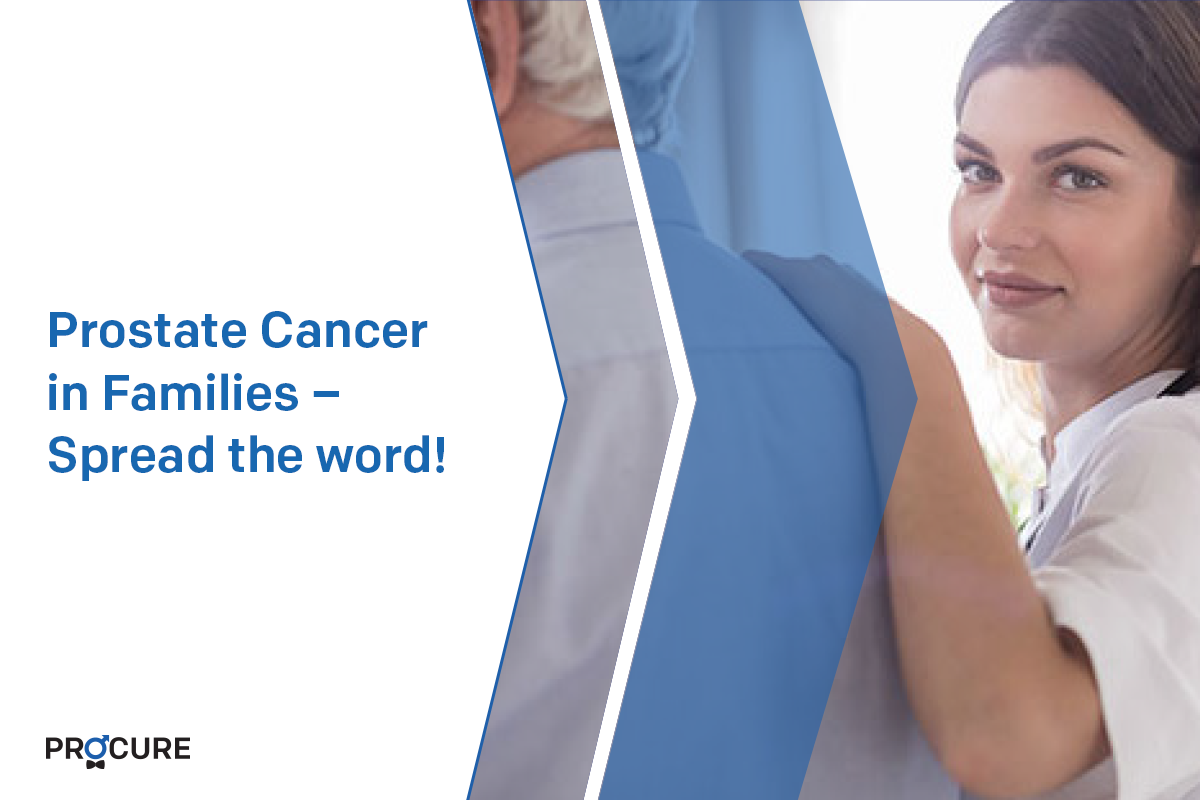 September 20, 2020
Prostate Cancer in Families – Spread the word!
"One of the most precious legacies you can give your children is knowledge that will empower them to make informed lifestyle and healthcare decisions. Many daily choices can help prevent cancer. Educating yourself and your family can boost motivation to form wise habits such as eating heart healthy foods (yes, if it's good for your heart it's good for your prostate), embracing regular vigorous exercise, avoiding smoking, moderate alcohol use, and good stress management."
Prostate Cancer in Families – Get the Word Out! signed by Dr. Dan Sperling, DABR, a board-certified radiologist, globally recognized as a leader in multiparametric MRI, co-author of a patient book entitled Redefining Prostate Cancer.
---
To think of it as an investment in the well-being of today's generation and those yet to come really redefine how important communication is when it comes to such tabooed subject as prostate cancer. As one patient puts it, one of the reasons why we don't like to talk about this illness is that as soon as you admit that you have prostate cancer, people think that you are sexually incompetent in addition to having urinary problems. It makes people uncomfortable and us, dealing with the side effects of prostate cancer treatments, numbed.
Therefore, how do we get over that shame that sneaks on men fighting an unwanted intruder called prostate cancer? And why should they feel any shame in the first place?
Men with a family history of prostate cancer run a higher risk of developing the disease and are more likely to do so at a younger age. 
Having family members (such as a father or brother) with prostate cancer increases your risk of developing it too. In fact, your risk can be 2 to 6 times higher depending on how many members of your family have developed the disease. It is essential to consult and inform your doctor from the age of 40-45 of any family histories of prostate cancer to be able to work together to set up a screening and prevention plan.
If it is essential for you to consult and inform your doctor of your family history, don't you think your children should follow your footsteps and do the same when they reach the critical age of being screened for the same disease you were diagnosed with? Going over your family medical history of cancer or just yours as a father can help your children understand their cancer risk. This may trigger a health behavior change or adjustments in their lifestyle. And that is quite a gift or a head's start for them.
The conclusion "when you share genes with people you love, you do them a loving favor by helping make them aware of possible vulnerabilities" in Dr. Dan Sperling's blog article makes it all worth having this precious discussion with your children, and why not, your siblings.
---
Take the time to visit each of our pages on this website, as well as our YouTube channel, in order to get familiar with the disease with our expert lectures, our section on available resources, the support that is offered to you.
Do you have any questions or concerns? Above all, do not hesitate. Contact us at 1 855 899-2873 to discuss with a nurse specializing in uro-oncology. It's simple and free, like all our services.
Our September 2020 awareness campaign
September is Prostate Cancer Awareness Month.
In September, PROCURE demystifies the prostate!
Pages of our site that might interest you
Want to know more? Just click on one of the links below.
Are you at risk?
Prostate-related diseases
PROCURE news that may interest you
Each week, we publish a blog article. Here are a few for you.
Prostate Cancer: Did You Say Zero Symptoms?
Top 5 Men's Health Risks
I have a little prostate pain. Is it cancer?
Written by PROCURE. © All rights reserved - 2020