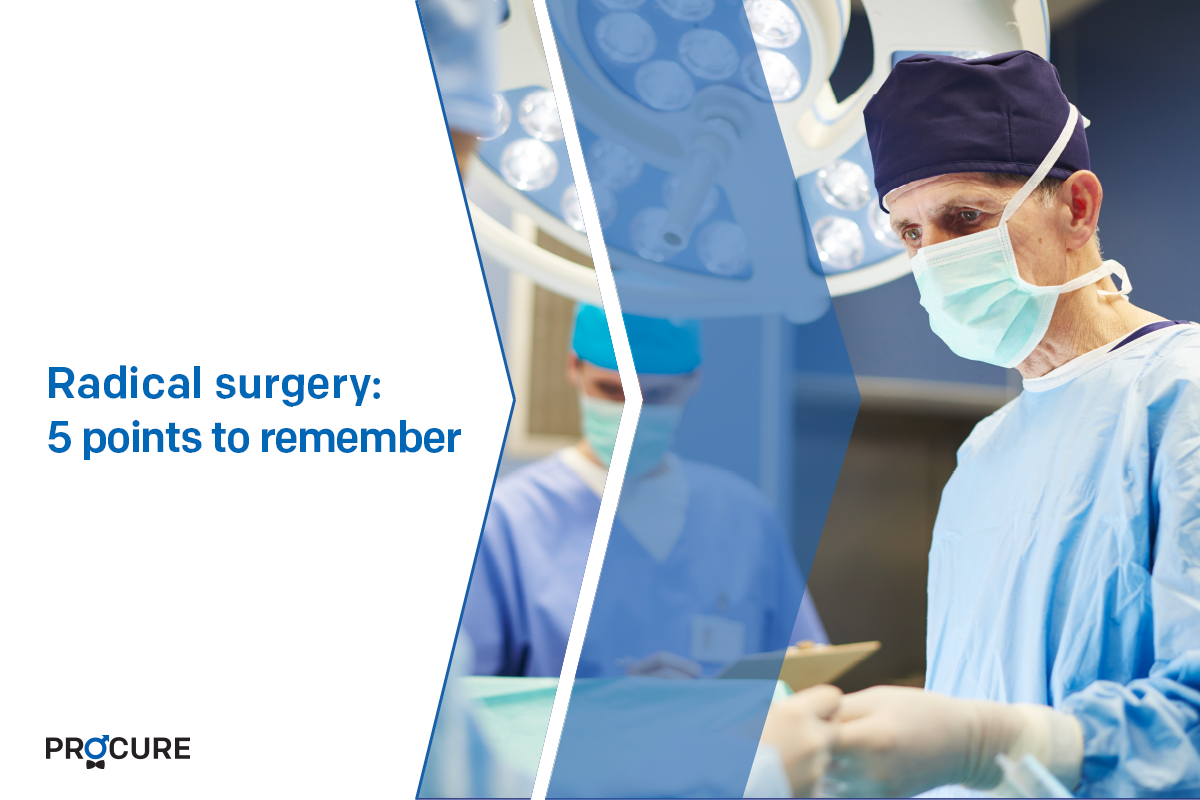 April 19, 2021
Radical surgery: 5 points to remember
If you have been diagnosed with prostate cancer, your doctor will consider many factors before recommending the best treatment. For many of you, this may mean completely removing your prostate, known as radical surgery. Here are 5 points to remember if you are considering this option.
Radical Surgery, is it for you?
Radical surgery is the most common surgical procedure for treating low-risk, intermediate-risk, or high-risk localized prostate cancer. It is usually done with the aim of curing your prostate cancer because it can remove all cancer cells. It can be used in combination with other treatments, for example, surgery followed by radiotherapy, if necessary. However, this is the most aggressive treatment and therefore carries a greater risk of side effects. Radical prostatectomy, its real name, is major surgery. It is a very effective treatment, but patients are understandably concerned about the complications.
A complex procedure that requires an experienced surgeon
During this procedure, the surgeon completely removes your prostate and some of the tissues that surround it, including your seminal vesicles (small pockets of fluid that feed your sperm). This operation is complex and requires a high level of technical precision, as the prostate is surrounded by nerves and structures important for normal urinary and sexual functions. It requires general anesthesia and a hospital stay of one to four days. You will leave the hospital with a catheter (a tube inserted through the penis called a urethral catheter) which will drain your urine from the bladder into a collection bag for one to two weeks. This paraphernalia is a little uncomfortable, but invisible under clothing and not very inconvenient. Your urine may be stained with blood, but you should not be concerned.
Urinary incontinence
After surgery, virtually all men have a period of transient urinary incontinence. It can last from a few weeks to a few months (average three to six months). For some men, patience will be required as recovery may take longer (six to nine months) and even up to two years. It varies from person to person depending on the degree of illness, age and state of health. It usually goes away with time. To keep incontinence as short as possible, you can use pelvic physiotherapy, which can be a great way to improve your continence by doing exercises more effectively (eg, Kegel exercises).
Erectile dysfunction
Do not confuse erectile dysfunction with desire and orgasm. After surgery, virtually all men have a transient period of erectile dysfunction. A high percentage of male men regain their erectile function within one to 36 months after surgery, often with medical help. Different degrees of erectile dysfunction are common as a result of this procedure, even when the surgeon is preserving your erectile nerves. How quickly and how easily sexual function improves depends on your preoperative sexual function, your age, and your health.
You need to invest time and effort in your recovery
You will need to get involved and work with your urologist or physiotherapist to recover your continence and erections. All of this requires patience, perseverance, and resilience. In other words, to participate in a marathon, you have to jog and train. The good news is that there are many strategies that can help you manage them. Do not hesitate to talk to your doctor. And talking about it openly with your partner helps ease the tension so you can make room for your imagination in complete privacy.
---
Take the time to visit each of our pages on this website, as well as our YouTube channel, in order to get familiar with the disease with our expert lectures, our section on available resources, the support that is offered to you.
Do you have any questions or concerns? Above all, do not hesitate. Contact us at 1 855 899-2873 to discuss with a nurse specializing in uro-oncology. It's simple and free, like all our services.