A MULTICENTRIC BIOBANK
A multicentric biobank dedicated to research on prostate cancer.
The PROCURE Biobank is the culmination of more than 10 years of collaboration between four university hospital centres in the province of Québec, with the support of donators and financial partners.
A biobank of some 2 000 men treated by surgery for their prostate cancer has gathered a substantial number of biospecimens and data:
Prostatic tissue, blood and urine at surgery; blood and urine at medical follow-up visits;
Associated clinical, pathological and sociodemographic data.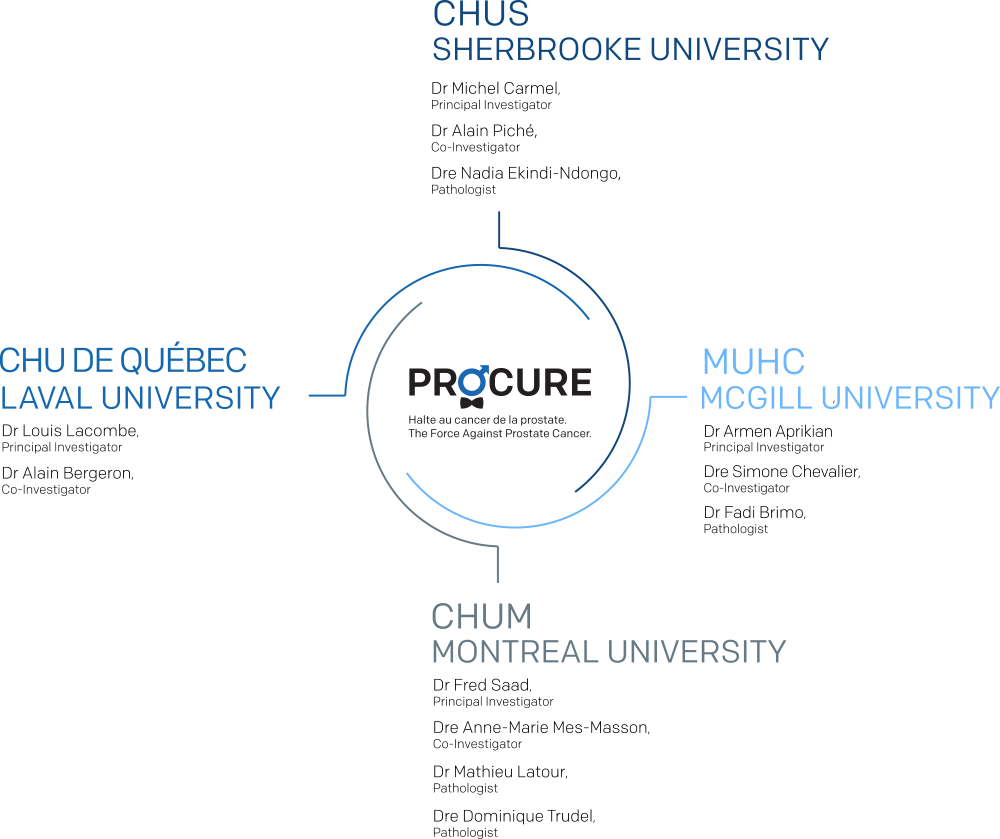 GOAL
Provide biospecimens and data of very high scientific quality for research in order to better understand prostate cancer, diagnose the disease at an earlier stage, and treat this cancer more effectively and more efficiently.
AVAILABLE SAMPLES
Serum, plasma, buffy coat layer, PBMC, urine;
Blood DNA and RNA;
Fresh frozen; formalin-fixed paraffin-embedded (FFPE);
Available soon.
THE PROCURE BIOBANK HAS DISTINCTIVE PROPERTIES
Harmonised procedures and methods in the four collection sites;
Socio-demographic data questionnaires completed by participants;
Cohort with a majority of Canadians and francophones;
Complete caracterisation of tissues by biobank's pathologists;
Blood and urine collection at follow-up visits, allowing for longitudinal studies;
Updating of clinical data at medical follow-up.
COHORT CHARACTERISTICS
Number of participants: 2004;
Follow-up Median: 7 years;
Mean age at diagnosis: 62 +/- 6,4 years;
Mean PSA at diagnosis: 7,9 +/- 10,3 ng/mL;
Biochemical recurrence: 652 patients (33%);
Hormonotherapy resistance (CRPC): 80 patients (4%);
Mortality: 187 patients (9%).
FOR MORE INFORMATION
Dr Alain Bergeron: alain.bergeron@crchudequebec.ulaval.ca
Ginette McKercher: ginette.mckercher@mail.mcgill.ca