A multicentric biobank
A multicenter biobank dedicated to prostate cancer research.
The PROCURE biobank is the result of more than ten years of collaboration between four university hospital centers in Quebec, with the support of major donors and financial partners.
We have collected a considerable amount of biospecimens and data from some 2,000 men who had undergone prostatectomy:
Prostate tissue, blood and urine at surgery; blood and urine during medical follow-up visits;
Associated clinical, pathological and socio-demographic data.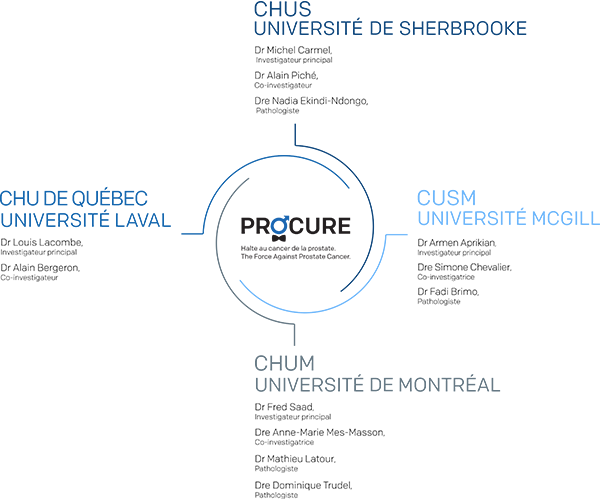 OBJECTIVE
Helping research by providing biospecimens and data of great scientific value to better understand prostate cancer, diagnose it earlier and treat it in a targeted and precise manner.
SAMPLE AVAILABLE
                    Serum, plasma, buffy coat, PBMC, urine;
                    Blood DNA and RNA;
                    Frozen in OCT; fixed and paraffin embedded (FFPE);
                     Available soon.
PROCURE BIOBANK HAS DISTINCTIVE CHARACTERISTICS
Harmonization of operating procedures and methods at the four collection sites;
Sociodemographic data questionnaire completed by participants;
Mainly Canadian and French-speaking cohort;
Full tissue characterization by biobank pathologists;
Collection of blood and urine at follow-up visits, leading to the possibility of longitudinal studies;
Update of clinical data during medical follow-up visits.
CHARACTERISTICS OF THE COHORT
Number of participants: 2004;
Median medical follow-up: 7 years;
Mean age at diagnosis: 62 +/- 6.4 years;
Mean PSA at diagnosis: 7.9 +/- 10.3 ng/mL;
Biochemical recurrence: 652 patients (33%);
Cases of cancer resistant to hormone therapy (CRPC): 80 patients (4%);
Mortality: 187 patients (9%).
FIRST RESEARCH PROJECT 2020
To grow, prostate cancer depends on sex hormones, called androgens. Treatment that deprives the production of androgens by chemical or surgical castration is the most effective basic treatment to stop the progression of this cancer. Unfortunately, after a while the cancer becomes "castration resistant".
Dr. Éric Lévesque and his team are interested in the mechanisms of synthesis of these hormones and in particular the enzymes that produce them as well as the impact of the level of these hormones on the growth of prostate cancer.
The objective of this research project is to analyze in the blood of patients before and after castration and during the progression of their cancer the blood levels of these different hormones and to correlate these levels with the progression of the disease and certain of its characteristics.
In this research project, Dr. Lévesque hopes to be able to demonstrate that the level in the blood of certain of these hormones could predict whether or not patients will rapidly develop resistance to castration. Such information could be used to choose more appropriate treatments in these patients.
A total of 1929 blood samples from the biobank will be used for this project.
FOR MORE INFORMATION
Dr Alain Bergeron: alain.bergeron@crchudequebec.ulaval.ca
Ginette McKercher: ginette.mckercher@mail.mcgill.ca