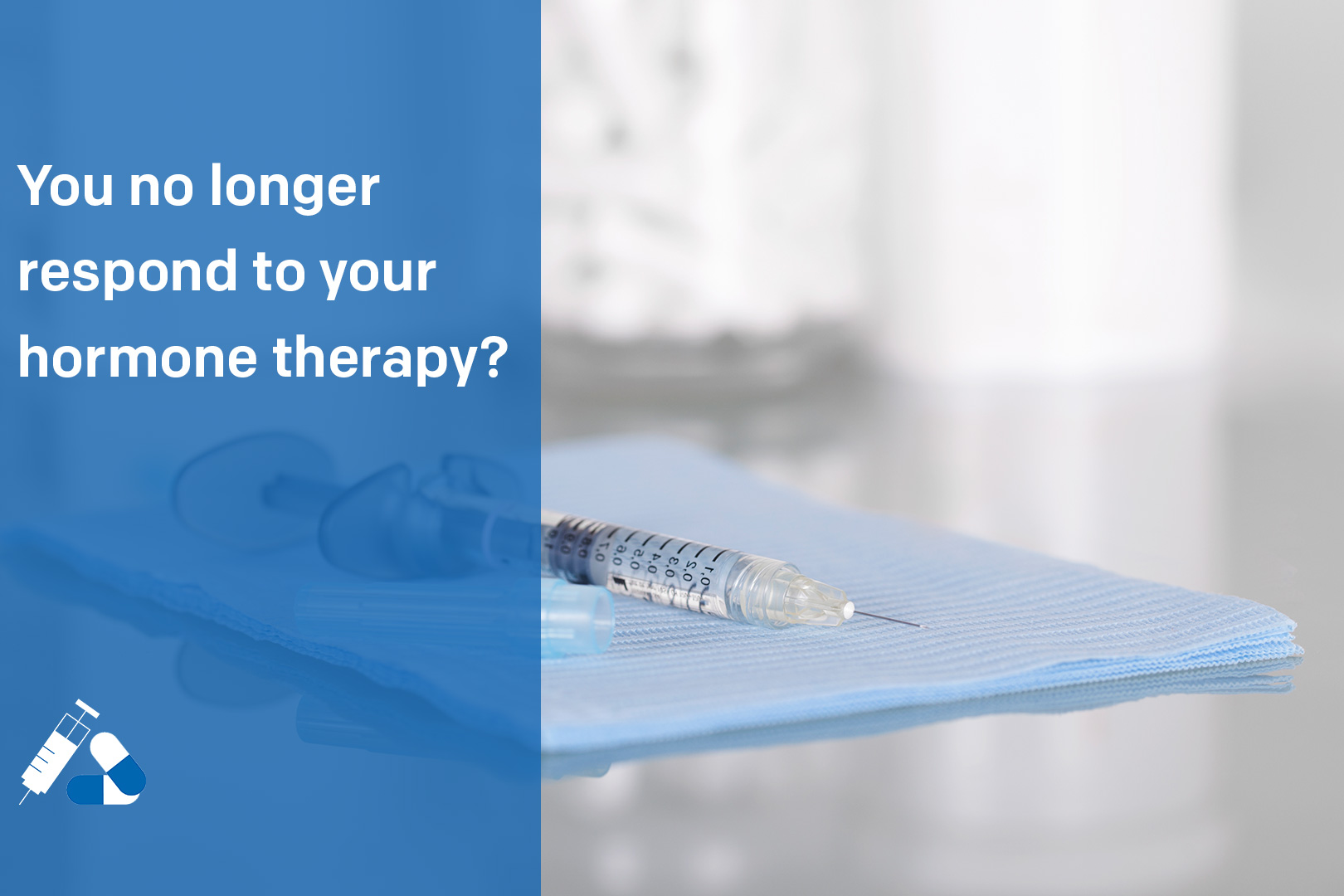 June 20, 2019
You no longer respond to your hormone therapy?
As you know, hormone therapy is mainly used when first treatments fail or when a patient is not a candidate for radical surgery or radiotherapy. On occasion, it can be combined with other treatments, such as radiotherapy.
As you also know, hormone therapy may be slowing the growth of prostate cancer, but it cannot cure it. When cancer is advanced, it is an excellent way to reduce pain and symptoms. However, the duration of its effectiveness varies according to patients. The majority of men who receive hormone therapy respond to treatment for a period of time. In some, the respite can last more than 10 years while in others, it will last less than a year.
Your doctor will know that hormone therapy has stopped being effective when the results of your blood tests show that your prostate-specific antigen (PSA) level is rising and your testosterone level is low. This is a sign that your illness is progressing despite everything. This is then referred to as castration-resistant prostate cancer (CRPC). There are two types of CRPC: CRPC with detectable metastasis (or metastatic CRPC) and CRPC without detectable metastasis (or non-metastatic CRPC).
Updated July 2020
You are no longer responding to hormone therapy and do not have metastases?
Until recently, there was no proven treatment for this type of cancer. If you stopped responding to your hormone therapy, you were followed regularly every three or six months until metastasis was confirmed. Only then would treatment be available. No one will be surprised to learn that this therapeutic approach was rather anxiety-provoking for those who lived it.
That is why non-metastatic CRPC has been the most studied area in prostate cancer research in recent years, with the goal to find medications that can prevent or delay the onset of metastasis.
A need being filled
In 2018, positive results were reported with two agents, as both demonstrated to delay the onset of metastasis by approximately two years in patients with rapidly rising PSA levels (high-risk non-metastatic CRPC). Enzalutamide (Xtandy), already used in metastatic CRPC, caused a very significant delay in metastasis in the target patients.
Apalutamide (Erleada), a new drug very similar to enzalutamide, showed similar results. Its approval by Health Canada in 2018 was based on data from the SPARTAN Phase III clinical trial. In this trial, apalutamide was shown to reduce the risk of metastasis or death in patients with non-metastatic CRPC by 70% and prolonged median survival without metastases by 40.5 months compared to 16.2 months for placebo.
As for darolutamide (Nubeqa), during the ARAMIS trial, it significantly reduced the risk of death, by 31 percent in patients with nmCRPC, significantly delayed the time to pain progression, time to first chemotherapy treatment, and time to first symptomatic skeletal event (SSE), being bone metastasis. Due to its well-tolerated safety profile, darolutamide has allowed men to continue their usual activities and to maintain their lifestyle quality.
As mentioned by Dr. Fred Saad in the 5th edition (2019) of his book Prostate Cancer - Understand the disease and its treatments: "It is very exciting to finally have something effective to offer patients at high risk of becoming metastatic. It is still too early to know if patients will live longer with these drugs. In addition, since prostate cancer evolves differently, not all patients will need these preventive drugs."
"Many patients now have access to more than one new drug that can prolong survival and improve quality of life. Although these are important findings, intense research continues, since patients, unfortunately, cannot be cured at this stage of the disease. "
In the next article, we will address the question Why PSA plays such an important role during and after your treatment?
---
Discover our new animated videos
Discover three new animated videos, each equally unique and original from one to the other. Be on the lookout!
Here is the third one - The role of hormone therapy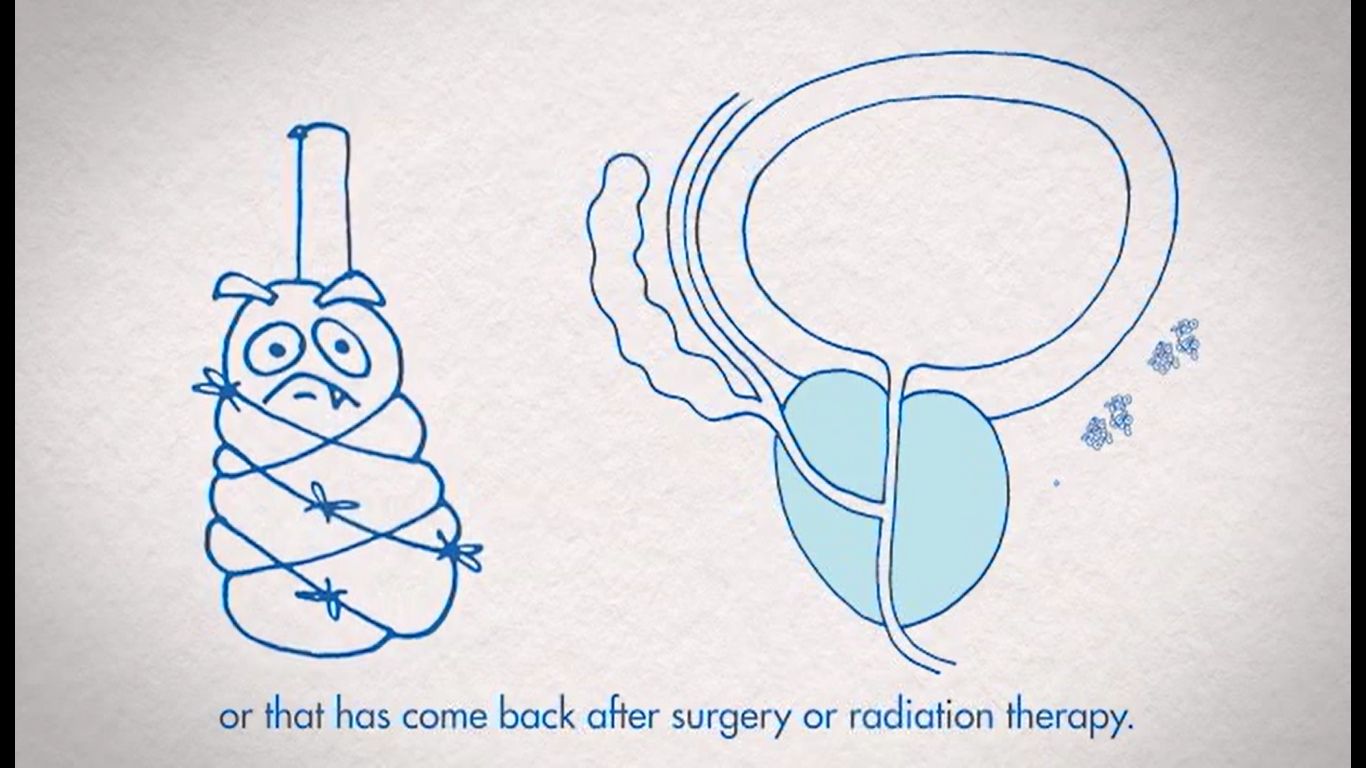 ---
Take the time to visit each of our pages on this website, as well as our YouTube channel, in order to get familiar with the disease with our expert lectures, our section on available resources, the support that is offered to you.
Do you have any questions or concerns? Above all, do not hesitate. Contact us at 1 855 899-2873 to discuss with a nurse specializing in uro-oncology. It's simple and free, like all our services.
Conference that might interest you
The latest PROCURE news that might interest you
Every week we publish a blog article. Here's some we chose for you
For men who no longer respond to hormone therapy…
Sources and references
Prostate Cancer - Understand the disease and its treatments; Fred Saad, MD, FRCSC and Michael McCormack, MD, FRCSC, 4th et 5th editions
Canadian Cancer Society
Health Canada Approves ERLEADA™* (apalutamide tablets)
Written by PROCURE. © All rights reserved - 2020