Information is the first remedy!
This month gives us the opportunity to think, listen, act and support these men and families who are affected by prostate cancer. Did you know that in Quebec, 12 men are diagnosed with prostate cancer every day? However, it is completely curable if it is discovered early enough, if it remains confined to the prostate and if it is treated in a timely manner.
Register for one or all 4 PEP Webinars
During this awareness month, we are pleased to offer you a weekly webinar hosted by Winston McQuade who will be accompanied by an expert on the proposed subject. It is therefore a weekly meeting, from 7 p.m. to 8 p.m.
From prostate to screening: September 8th with Dr Thierry Lebeau
Is there a genetic predisposition to prostate cancer?: September 14th with Evan Weber
New diagnosis: How to choose a treatment?: September 22nd with Dr Vincent Trudeau
Did you say pelvic rehabilitation and Kegel exercises?: September 29th with Claudia Brown
I want to understand! Discover our new animated videos below
Over the weeks, discover three new animated videos, each equally unique and original. Be on the lookout!
Symptoms, risk and screening
Are you over 50 years old, or have you been having urinary problems for some time now? This video is for you! Several diseases can affect your prostate, and it's important to detect them early. Let's take a closer look.




Diagnosis and treatment
Have you recently been diagnosed with prostate cancer? This video is for you! When it comes to cancer, it pays to know the facts. Let's take a closer look.




The role of hormone therapy
Has your doctor recommended hormone therapy to treat your prostate cancer? This video is for you! When it comes to hormone therapy, it pays to know the facts. Let's take a closer look.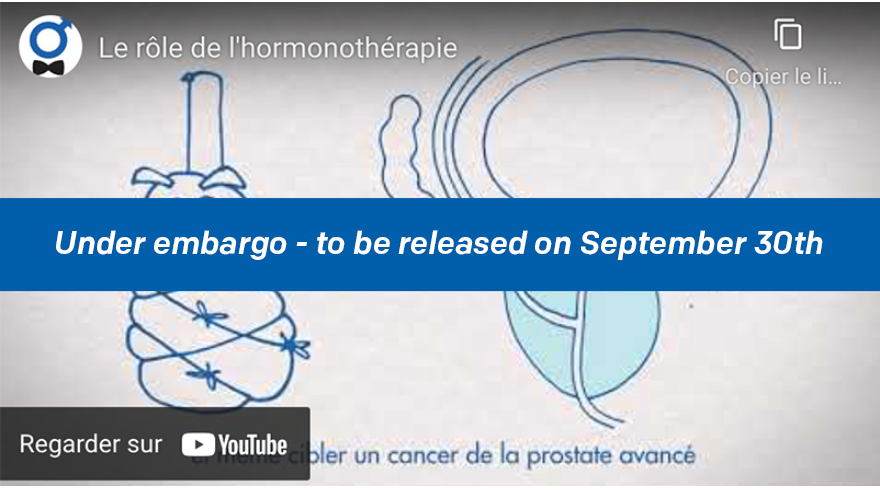 PROCURE would like to thank the specialists, nurses and patients for their help in the realization of this video.
Urologists
Armen Aprikian, Nawar Hanna, Avrum Jacobson, Thierry Lebeau, Daniel Lewinshtein, Malek Meskawi, Vincent Trudeau
Nurses
Ellen Kucharski, Suzanne Thibeault
Patients
Serge Goupil, Neil Mathieu
Special thanks to Isabelle Pagé and Winston McQuade for the narration of the videos.
Written by PROCURE. © All rights reserved – 2021