by Claude Marsolais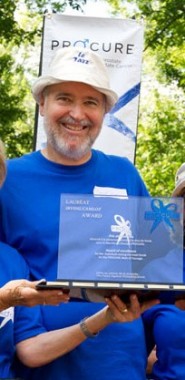 Finding out you have cancer is a shock. Learning that it has come back for a third time is terrible. You get back on your feet but nothing will ever be the same again.
Support from my family, my friends and the Procure team helped me get back on my feet. I now look at life differently and take the time to savour precious moments with the people I love and do things that are important to me.
I also changed my diet, incorporating more organic produce, and cut back on my working hours until I finally took early retirement. Carl Jung said that illness is life's way of telling us to heal ourselves. I'm not sure that's true but I'm now living in the moment and am serene and filled with happiness. Every day I appreciate growing older.
Encouraging research gives us the hope and the energy to go on.