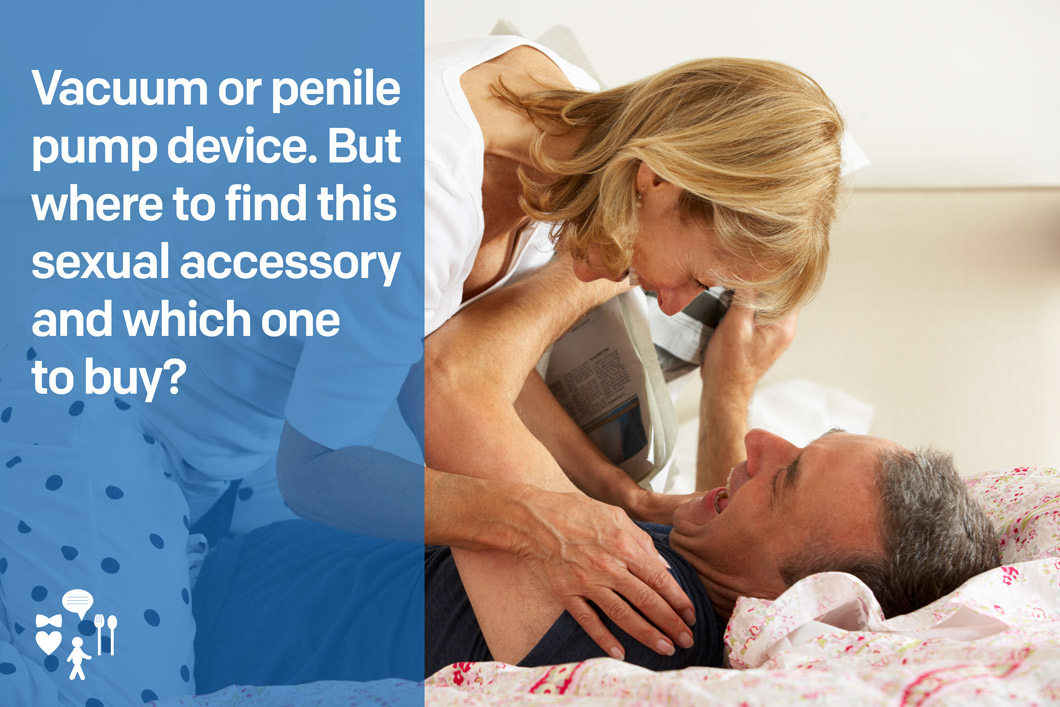 December 8, 2016
Vacuum or penile pump device | But where to find this sexual accessory and which one to buy?
In a previous article, we discussed that the erection pump, also known as the penile pump, has many advantages for sex life, in particular after undergoing prostate cancer treatments. Now, let's see where this tool can be purchased and which one would produce the best results.
Electric or manual?
First of all, note that there are different pump models – some are electric and others are manual. The men testing several pumps reported that they preferred the manual pumps with lever handles.
Actually, according to the, this type makes it possible to obtain a better erection by controlling the exerted pressure in the tube, as opposed to the electric pump, where the automatic pressure does not always allow for an optimal erection.
In addition, an electric pump would make noise when used, giving your neighbours or people around you a pretty good idea of what you are up to. This can be rather troublesome, especially when undergoing prostate cancer treatment.
Some other criteria to consider when shopping for the pump after prostate cancer are as follows:
Make sure that the pump has been tested and approved for use by the health authorities of the country of purchase, for example, the FDA in the United States.
The pump must have a safety valve in order to prevent an injury in case too much pressure is applied at the base of the penis.
The materials used in the pump must be of high quality, especially the silicone rings. The silicone must be flexible and the handles as thick as possible, so an not to enter the body and cause injuries.
The pump must include warranty and a money-back guarantee.
Check with your health insurance provider in advance to make sure the pump is covered.
Where can you buy the penile pump?
In Quebec, this accessory is found in most adult product stores. However, not all pumps are high-quality, so make sure to select the right model. Here is an overview of some models, together with their characteristics. As they are not available in Canada, you will need to order them online.
MES MedIntim manual model (France)
Simple handling and vacuum adjustment controlled by pressing the handle.
Create the vacuum in 25 to 30 pumps (on average).
Very high quality silicone rings.
Complete kit available on Bieva.
Comes with a warranty and a money-back guarantee.
Support line available.
Bathmate Hydromax model (United States)
Available on thebathmate.com or http://www.pompeapenis.org/.
Comes with a warranty and a money-back guarantee.
Support line available (English only).
Pump prices
Generally, depending on the quality of the equipment and your penis size, the pump would cost between $150 and $500. You should contract the shops before making your selection in order to compare models and costs based on your needs.