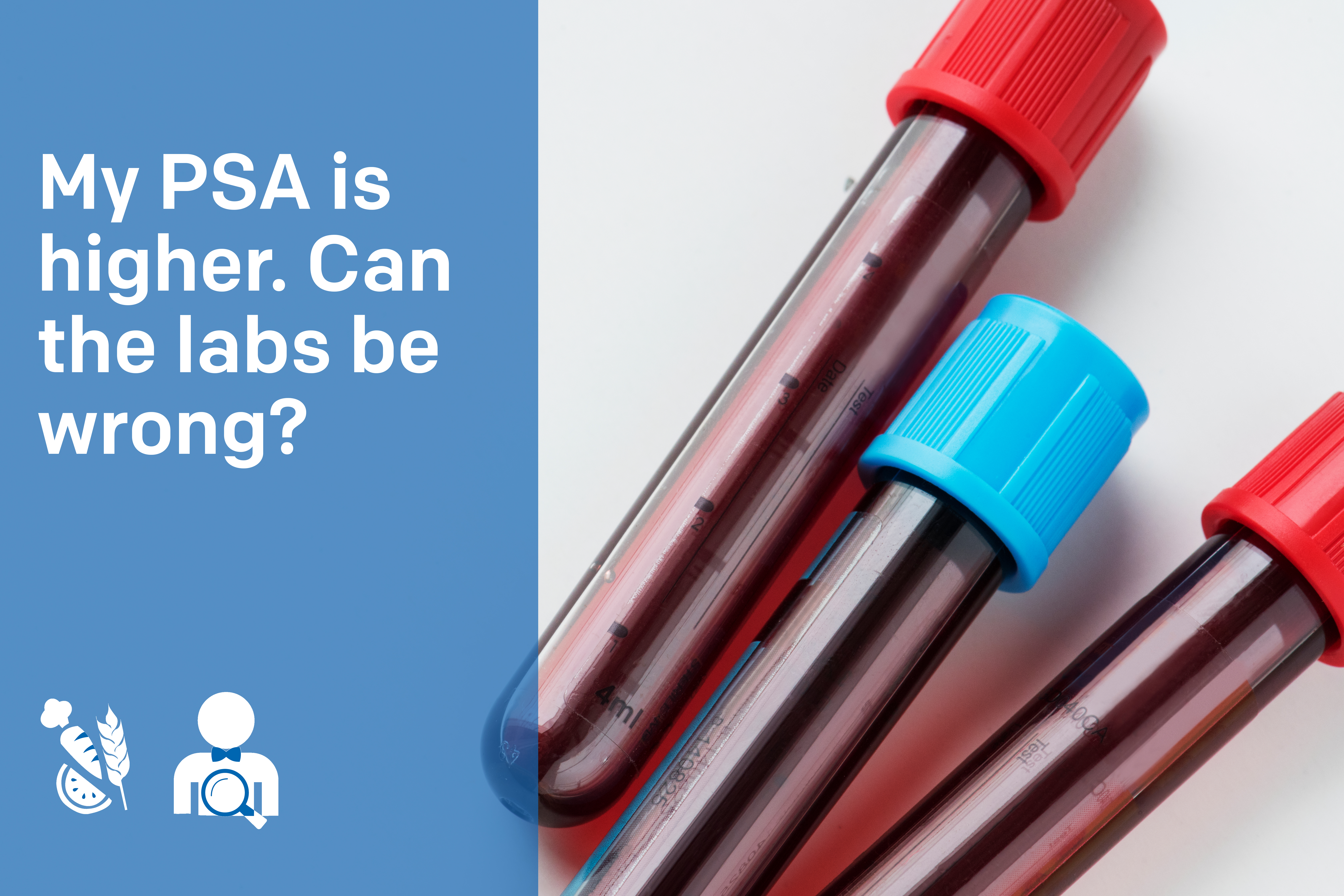 March 23, 2019
My PSA is higher. Can the labs be wrong?
PSA is produced by healthy cells in the prostate. This is why it's normal to find a small amount of PSA in your blood. A PSA higher than normal can be worrisome. However, the only conclusion we can draw is that your prostate is talking to you and that we need to investigate. A PSA test measures this amount from a simple blood test, which is then analyzed in a laboratory. Quantities that are normal will vary depending on your age at screening time, your racial origins, or your treatment if you have had prostate cancer. We will focus more specifically on screening in this article.
Normally, test results from laboratories are quite accurate and are representative of the state of health of your prostate. We still recommend that you always run your tests in the same place at the same time.
What can affect my PSA level?
You should know that a higher than normal PSA level doesn't necessarily mean you have prostate cancer. The following can cause your PSA to rise.
An enlarged prostate due to benign prostatic hyperplasia (BPH). PSA level rises as the prostate gets bigger. More prostate cells = more PSA being secreted = higher PSA
A prostatitis. Treatment will be prescribed, and you will need to wait until the inflammation disappears, before retaking a PSA test.
A urinary tract infection. Treatment will be prescribed, and you will need to wait four to six weeks, the time it takes for the infection to clear up, before retaking a PSA test.
A prostate biopsy in the six weeks before a PSA test.
A procedure or an operation on the bladder or prostate, or the use of a catheter. It is better to wait up to six weeks after such a procedure before having a PSA test.
A sexual activity that includes an ejaculation in the 48 hours before a PSA test.
A vigorous exercise, such as biking, in the 48 hours - or a week if you are cycling long distances - before a PSA test.
Anal sex or prostate stimulation. It is better to avoid these activities and wait a week before a PSA test.
Warmer climates can also impact your PSA level
You should also let your doctor know what medication you are taking as some medication can affect your PSA level. A DRE just before a PSA test does not impact results.
---
Take the time to visit each of our pages on this website, as well as our YouTube channel, in order to get familiar with the disease with our expert lectures, our section on available resources, the support that is offered to you.
Do you have any questions or concerns? Above all, do not hesitate. Contact us at 1 855 899-2873 to discuss with a nurse specializing in uro-oncology. It's simple and free, like all our services.
Pages of our site that might interest you
Want to know more? Just click on one of the links below
All about PSA
Prostate related diseases
Are you at risk?
The latest PROCURE news that might interest you
Every week we publish a blog article. Here are some we chose for you
How well do you know your prostate?
My prostate hurts. Could it be cancer?
Prostate cancer: Did you said zero symptoms?
Written by PROCURE. © All rights reserved - 2020