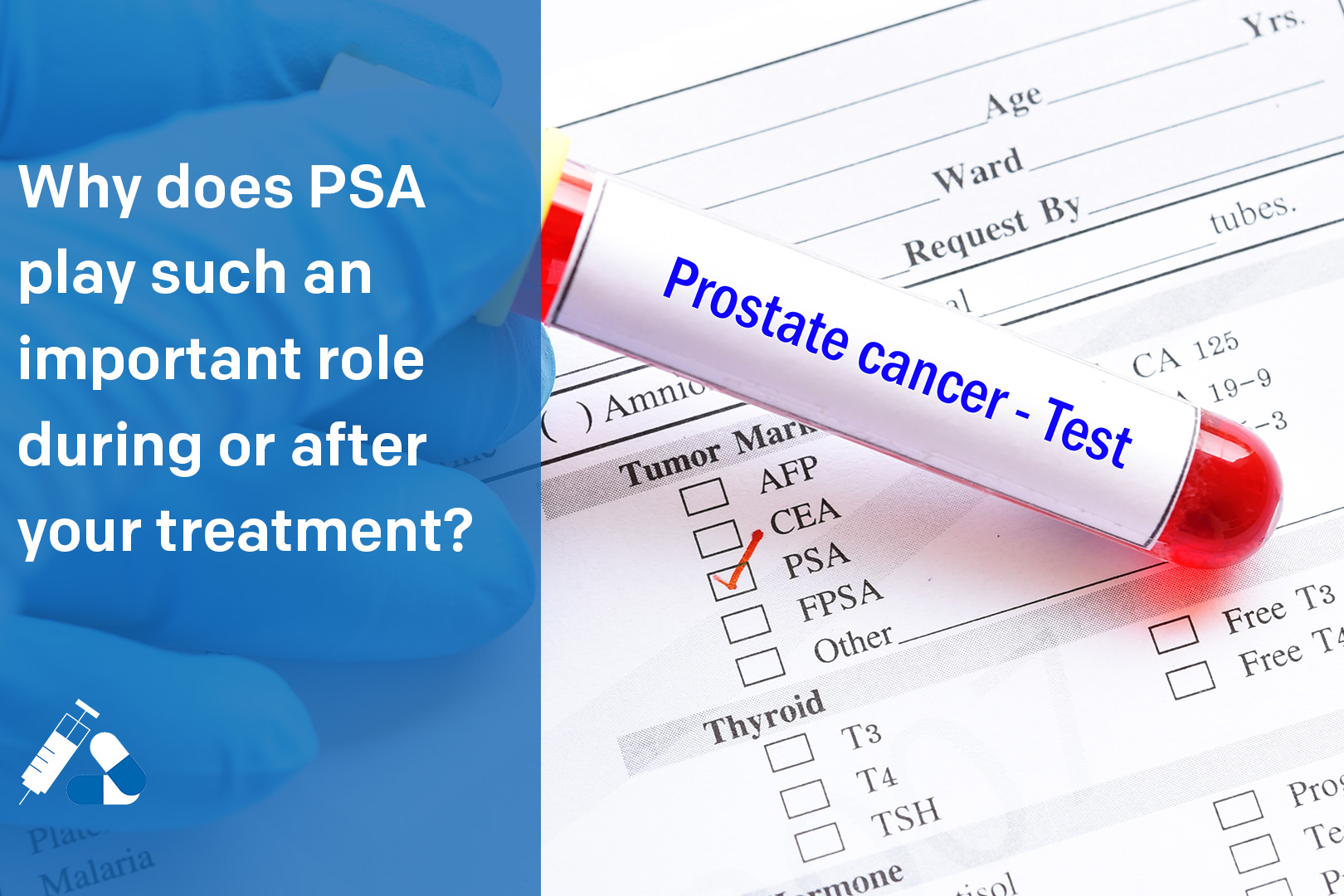 June 27, 2019
Why does PSA play such an important role during and after your treatment?
Whether you are currently under active surveillance, hormone therapy, chemotherapy, or have opted for surgery or radiation therapy, your prostate-specific antigen (PSA) blood level is an important indicator of the effectiveness and your response to treatment. In general, your PSA rate is expected to fall, to be at very low or undetectable levels (0), depending on your type of treatment, or when you should start treatment if you are being monitored for active surveillance.
Updated July 2020
Your medical follow-up
Your follow-up will be based on your treatment. If you have been treated with surgery, radiation therapy, hormone therapy or a combination of these treatments, visits will usually take place 6 to 8 weeks after the start of your treatment. Then you will see your specialist at regular intervals (3 to 6 months). After a couple of years without recurrence, and if all goes well, annual follow-up appointments will be scheduled.
Your PSA level
Your doctor will do a PSA test every time since this test is the best predictor for the risk of recurrence of prostate cancer. A digital rectal exam may also be performed sometimes. At every consultation, blood is taken so that your doctor can monitor your PSA level. Your doctor monitors three different factors:
whether PSA levels have increased;
how long after treatment this occurs;
and how long it takes for PSA levels to double (in other words, PSA velocity).
The shorter these periods are, the greater the risk of recurrence and the more aggressive the recurrence will be. For example, the PSA level that starts to increase eight months after the operation and that doubles in six months is much more worrisome than a PSA level that starts to climb three years after surgery and takes a year to double.
With radiation therapy, PSA levels should begin to drop in the months following the start of treatment. PSA levels may continue to drop for as long as year after treatment ends. The lower they fall, the greater the chances that the cancer is fully under control. PSA levels will generally not fall all the way down to 0 ng/mL because it is almost impossible to destroy 100% of prostate cells. In general, the PSA level will drop to less than 1 ng/mL and remain stable.
Why is it important to go to all of your follow-up appointments?
In the article You no longer respond to your hormone therapy? we mentioned that your doctor Your doctor will know that hormone therapy has stopped being effective when the results of your blood tests shows that your prostate-specific antigen (PSA) level is rising and your testosterone level is low. This is a sign that your illness is progressing despite everything. This is then referred to as castration-resistant prostate cancer (CRPC) with or without detectable metastases.
As new agents, such as apalutamide (Erleada), Enzalutamide (Xtandy), Darolutamide (Nubeqa), are indicated for men whose cancer has become resistant to hormone therapy and in whom the risk of metastasis is very high due to the increase of their PSA level, it is important to go to all of your follow-up appointments. If this is your case, if your PSA level rises with each dosage, your doctor may decide to follow up more closely, meaning that appointments and PSA tests could be closer, such as every 3 months, perhaps even more frequently. Depending on the course of your cancer, your doctor may prescribe one of the new agents available that may delay the development of metastases or offer you another option.
As the evolution of prostate cancer is highly variable, not all patients will need these preventive treatments. Opening the discussion with your doctor and understanding all your options will help you make the decision that's best for you.
---
Take the time to visit each of our pages on this website, as well as our YouTube channel, in order to get familiar with the disease with our expert lectures, our section on available resources, the support that is offered to you.
Do you have any questions or concerns? Above all, do not hesitate. Contact us at 1 855 899-2873 to discuss with a nurse specializing in uro-oncology. It's simple and free, like all our services.
Conference that might interest you
 
The latest PROCURE news that might interest you
Every week we publish a blog article. Here's some we chose for you
For men who no longer respond to hormone therapy…
Sources and references
Prostate Cancer - Understand the disease and its treatments; Fred Saad, MD, FRCSC and Michael McCormack, MD, FRCSC, 4th et 5th editions
Canadian Cancer Society
Health Canada Approves ERLEADA™* (apalutamide tablets)
Smith MR, Saad F, Chowdhury S, et al. Apalutamide Treatment and Metastasis-free Survival in Prostate Cancer. N Engl J Med. 2018.
Written by PROCURE. © All rights reserved - 2020