Have you recently had a prostate cancer test followed by a biopsy and with your report in hand, having trouble capturing the results? The article Biopsy: what do the numbers mean? is intended to help you understand the significance of the Gleason grades and score in the pathology report of your biopsy.
What you need to know – If cancer is present, the biopsy shows how aggressive the cancer cells are on a scale called the Gleason score. This score is established based on the percentage of affected samples, their grades and the risk of cancer progression.
The score
In the same tissue, cancer can be more aggressive in some areas than in others (different grades coexist). Thus, to get a more accurate idea of the cancer's spread, the pathologist assigns grades to the two most common patterns of cancer growth and adds them together to get the Gleason score. It is important to consider the order of the grades. The first number represents the most common grade and can influence your choice of treatment.
The interpretation
For example, the degree of aggressiveness of a cancer with grades 3 + 4 (Gleason score 7) will be lower than a cancer with grades of 4 + 3 (Gleason score 7). In cases where a predominant grade cannot be found, the pathologist will add the number to itself. For example, 4 + 4 gives a score of 8.
The Gleason scale
In theory, the Gleason score is a scale from 2 to 10, but in practice, because grades 1 and 2 are not cancer, scores are normally only between 6 and 10 (3 + 3 to 5 + 5). In general, the higher the score, the more aggressive and fast-growing it is. The Gleason score can be an important factor in your doctor's recommendation to proceed with active surveillance, radical surgery, radiotherapy with or without hormone therapy, hormone therapy or chemotherapy.
The new classification system
In recent years, a new classification system has been used to assess the aggressiveness of prostate cancer: Grade Group. It simplifies classification into 5 groups, based on your cancer's risk of progression.
Grade group 1 = Gleason score 3 + 3 = low risk
Grade group 2 = Gleason score 3 + 4 = favorable intermediate risk
Grade group 3 = Gleason score 4 + 3 = unfavorable intermediate risk
Grade group 4 = Gleason score 8/10 = high risk
Grade group 5 = Gleason score 9/10 or 10/10 = very high risk
When you are diagnosed with prostate cancer, you should always ask for your Gleason score and know your latest PSA levels.
In summary – Why is it important to understand your biopsy report?
Cancer words in your report are cancer, adenocarcinoma, carcinoma, malignant. If you do not see these words in your report, there is no cancer. The bottom line is that the lower your numbers – Gleason score of 6 or a Group Grade of 1 – the less aggressive your cancer is. Ditto for the extent of your cancer interpreted in % or in millimeters (mm) on each of your samples detailed in your report. Although complex, the biopsy report is interpreted along with other clinical data to guide future biopsies or treatment, if required. Do not hesitate to ask your urologist any questions or call us at 1 855 899-2873.
---
Discover our new animated videos
Discover three new animated videos, each equally unique and original from one to the other. Be on the lookout!
Here is the second one – Diagnosis and Treatment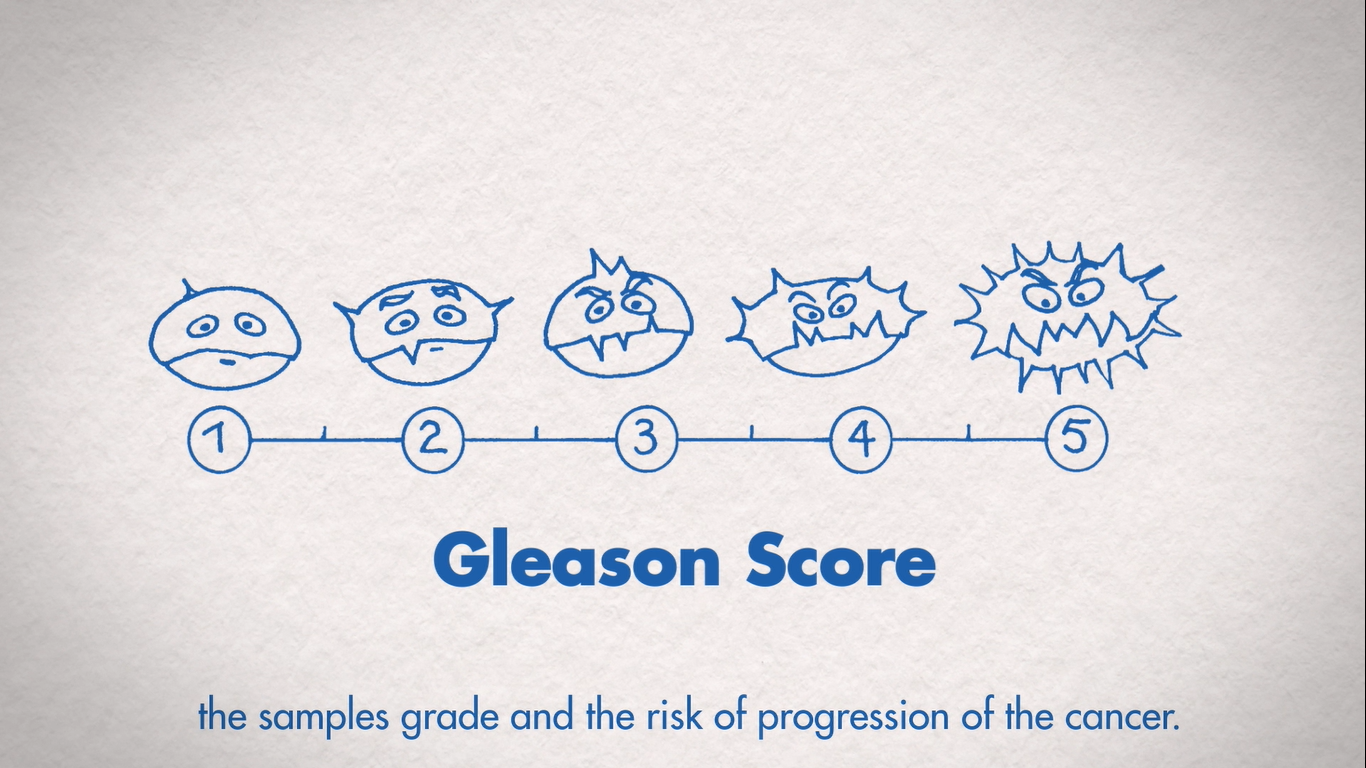 ---
Take the time to visit each of our pages on this website, as well as our YouTube channel, in order to get familiar with the disease with our expert lectures, our section on available resources, the support that is offered to you.
Do you have any questions or concerns? Above all, do not hesitate. Contact us at 1 855 899-2873 to discuss with a nurse specializing in uro-oncology. It's simple and free, like all our services.
Pages of our site that might interest you
Want to know more? Just click on one of the links below.
Biopsy and Diagnosis
Choosing your treatment
The latest PROCURE news that might interest you
Every week we publish a blog article. Here are some we chose for you.
Prostate cancer: Did you say zero symptoms?
Scared stiff of having a prostate biopsy?
Can a MRI of my prostate replace a biopsy?
Written by PROCURE. © All rights reserved – 2021