May 25, 2018
What is Psychological Flexibility?
But what is Psychological Flexibility exactly? When you hear the news of prostate cancer, in addition to the initial shock, it is not uncommon to be in denial and feel sadness, fear, anxiety, shame, guilt and anger at the same time. Statistically, as a result of such a diagnosis, nearly 30% of people suffer from depression and just over 15% experience severe anxiety.
However, even without the presence of severe symptoms it may be advisable to consult a psychologist to help you, and to help your family overcome this emotional and, let's say, overwhelming test. In fact, almost 50% of men with prostate cancer will need a psychosocial intervention at some point during their journey. It is here that the psychological flexibility that one can develop by exploring a perspective of our human behaviors with the ACT Matrix...
According to a scientific study1, psychological flexibility, known as Acceptance-Commitment Therapy (ACT) has shown a positive influence in people with cancer, regardless of the stage of the disease. ACT has a proven track record in psychological components such as depression and anxiety, but also in quality of life in general.
But what exactly is the ACT Matrix?
The flexibility ACT Matrix is an intuitive graphical representation that allows us to dynamically learn to more easily choose what we will do as an action to live our life even when we are overwhelmed by emotions, thoughts, memories and sensations difficult and uncomfortable. In other words, it is the ability to be able to choose to do actions to get closer to what really matters to oneself (significant people and precious things), even in the presence of obstacles, such as illness, unpleasant emotions and thoughts.
IMPORTANT: There are no good or bad answers when doing this exercise. This is only a reflexion of your situation and you are free to take actions that are related to your values, with what is important for you, despite your inner obstacles. Nobody will judge you.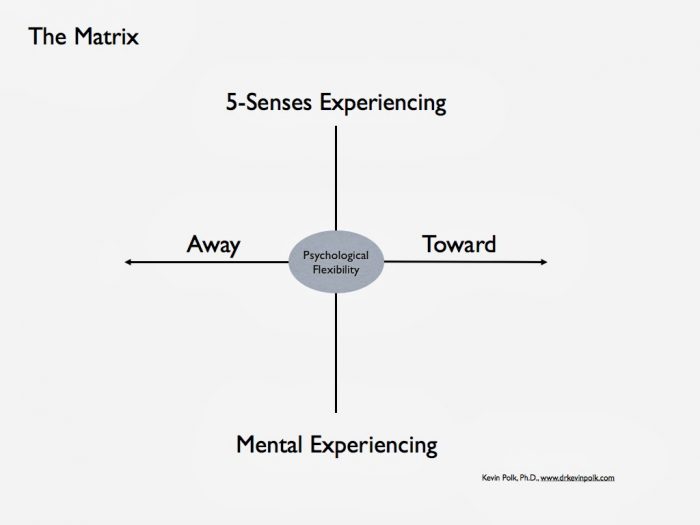 Tips for developing psychological flexibility
What is valuable enough to keep moving even in the presence of all that one does not want to feel?
When you are busy doing actions to fight against anxiety and / or under the control of anxiety, you give up what?
If you could choose, would you continue to struggle against what you do not want to feel, or would you move toward what matters to you?
Some options to get you started, such as:
Feeling and observing in which directions you do your behaviors:

to fight against what I do not want to feel,
to move towards what matters,
a little bit of both.

Specifying and listing what really matters to you in your life
Trying to tame your difficult emotions by taking a few moments to notice where you feel them in your body
Listing what you do when you struggle against what you do not want to feel
Writing an activity that really matters to you because it brings you closer to people and / or things that are valuable to you, eg: playing golf, sleeping in, getting to bed late, dancing, going to a conference, preparing a special recipe, watch a movie, etc.
Addressing a difficult subject with your loved ones to encourage genuine and sincere communication
Asking for psychological help
Other ....
And you…
What are you willing to dare do different?
To choose to live, even in the presence of prostate cancer, anxiety and associated emotions, I'm willing to dare do...
Meet a psychologist who uses ACT psychotherapy
If you, a family member, or a friend of yours has cancer and want to take a supportive approach to improving your quality of life, you can search on the reference site of the Ordre des Psychologues du Québec here.
---
Take the time to visit each of our pages on this website, as well as our YouTube channel, in order to get familiar with the disease with our expert lectures, our section on available resources, the support that is offered to you.
Do you have any questions or concerns? Above all, do not hesitate. Contact us at 1 855 899-2873 to discuss with a nurse specializing in uro-oncology. It's simple and free, like all our services.
Conference that might interest you (in French only)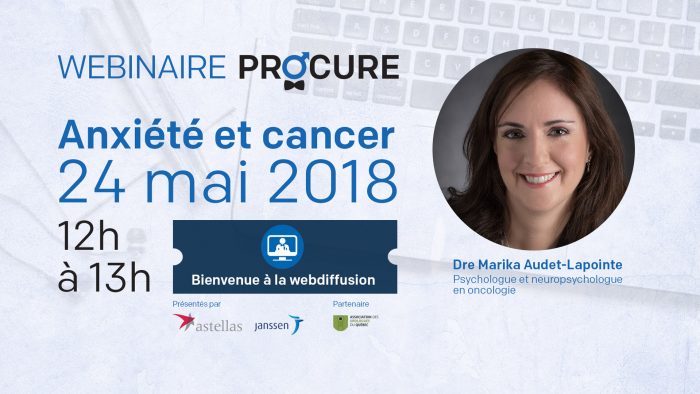 Pages of our site that might interest you
Want to know more? Just click on one of the links below.
Coping with cancer
Support for you
Resources in one click 
The latest PROCURE news that might interest you
Every week we publish a blog article. Here are some we chose for you.
The importance of health capital… Martin's story
What to do today to sleep better tonight?
Learning to breathe is essential!
Sources and references
Feros, D., Lane. L., Ciarrochi. J. & Blackledge. J. (2013). Acceptance and Commitment Therapy (ACT) for improving the lives of cancer patients: a preliminary study. Psycho-Oncology, vol 22 (2).
PROCURE Webinar held on May 24, 2018: Anxiety and Cancer with Dr. Marika Audet-Lapointe, psychologist and neuropsychologist in oncology. Note that the webinar will be available on our YouTube channel soon. In French only.
Written by PROCURE. © All rights reserved - 2018