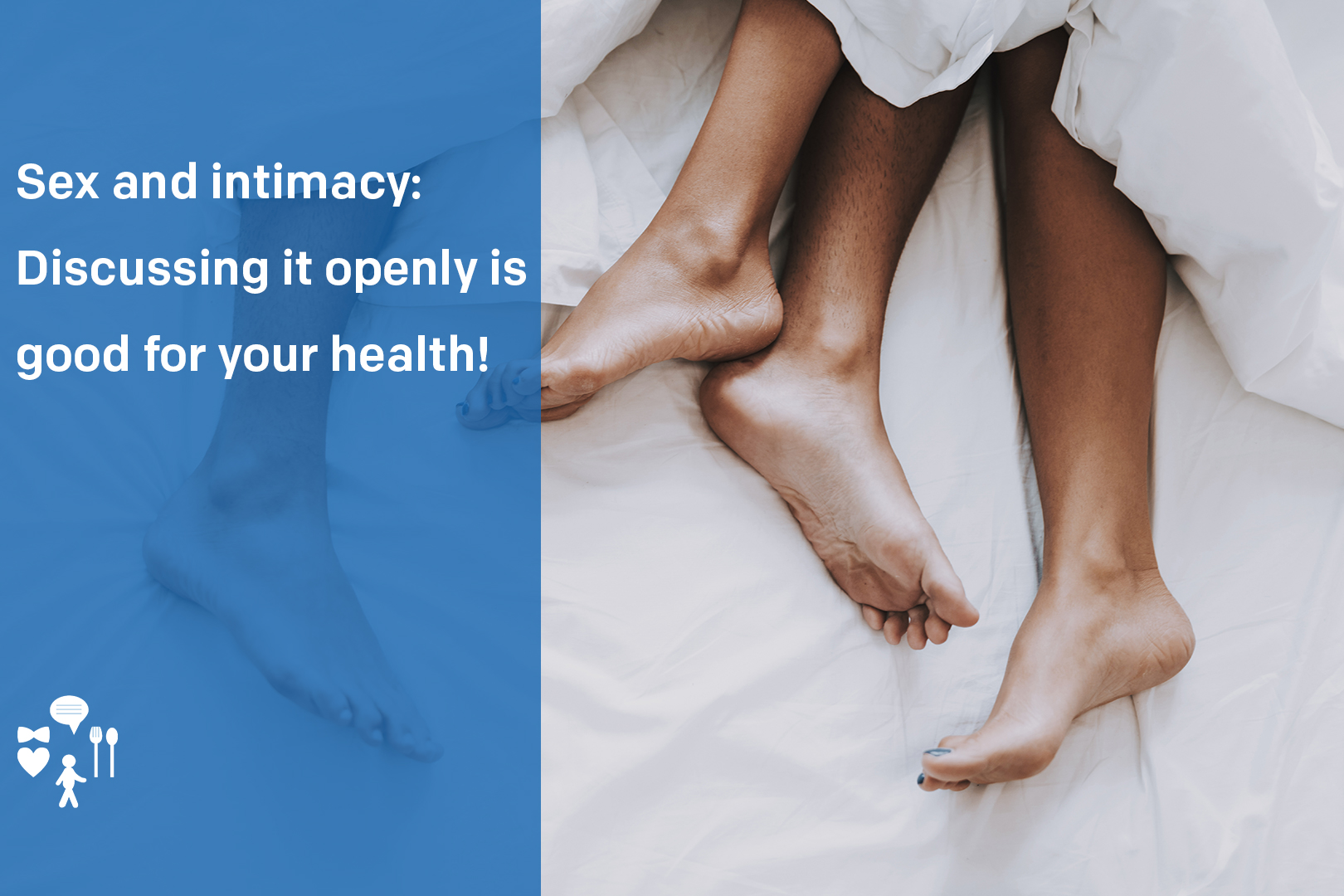 February 20, 2020
Sex and intimacy: Discussing it openly is good for your health!
How to approach the subject… Especially after a treatment, you and your partner will have to establish new normality as regards intimacy, sex, and communication. This can include helping manage treatment-related side effects that not only have a direct impact on your sex life but which can also have an indirect impact on your partner's desire to be intimate. For example, men with sexual dysfunction or urinary incontinence may physically have privacy issues, while experiencing self-esteem and self-image issues.
These self-perception problems can further diminish a man's desire or ability to be intimate. It can be difficult to let him know that you are there without adding to his embarrassment or doubt. It may be difficult for him to talk about sex and intimacy with you at first, but with your confidence, he will likely become more comfortable over time. Survivors of prostate cancer can fight such problems even after their cancer has been removed. As a caring partner, you can help them establish new routines and expectations to foster a healthy relationship.
Keep lines of communication open
A major problem with many of the side effects of prostate cancer treatment is that they can be embarrassing or difficult to speak for the man who suffers from them. For these reasons, it is important to keep lines of communication open with your partner and to let him know that he can confide in you without judgment. The same idea holds true for non-sex-related side effects. Feelings of depression, anxiety, and social isolation, as well as other physical symptoms, can be as difficult to discuss as problems with intimacy and can cause as much damage to the physical, mental and emotional well-being of a man.
It is important to remember that open lines of communication work both ways, and you should also feel able to confide in your partner, if necessary. Caring for someone with prostate cancer and learning to be normal can sometimes be overwhelming. Discussing concerns, frustrations or a need for support with your partner can be just as important as your partner sharing their concerns with you. This will help you maintain a healthy relationship throughout this journey. Seeking advice, alone or with your partner, can help if you are overwhelmed or need to talk to someone else.
---
Take the time to visit each of our pages on this website, as well as our YouTube channel, in order to get familiar with the disease with our expert lectures, our section on available resources, the support that is offered to you.
Do you have any questions or concerns? Above all, do not hesitate. Contact us at 1 855 899-2873 to discuss with a nurse specializing in uro-oncology. It's simple and free, like all our services.
Pages of our site that might interest you
Want to know more? Just click on one of the links below.
Coping with cancer
Support for you
Resources in one click
The latest PROCURE news that might interest you
Every week we publish a blog article. Here are some we chose for you.
The treatment is finished. Now how do you stay motivated?
Not tonight darling? Tips to reconnect with your sexuality ...
Sources and References
What you need to know about your partner's prostate cancer. UsToo.org. http://www.ustoo.org/PDFs/Partners_Program_Guidebook.pdf. Accessed January 10, 2020.
Written by PROCURE. © All rights reserved - 2020