April 21, 2016
The 8 most frequent questions about radical prostatectomy
To fight prostate cancer, you have chosen the surgery. Despite this, you still have some questions in mind about it. It is normal. Here are the answers to the eight most frequently asked questions.
Is my surgeon skilled?

The success of the surgery and the risk of side effects will depend on the experience and skill of your surgeon. Your surgeon must be able to tell you how many operations he has performed, the success rate of his surgeries and the rate of side effects in his patients.

To get the answer, just ask questions as simple as how long have you been doing surgery? Do you do it regularly, every week or every month?

Surgeons who are regularly in the operating room, for eg. 3 times a month, or who do at least 20 radical prostatectomies each year, and ideally more than 35 per year, have better results, including lower rates of side effects.

Is robotic surgery better than manual surgery?

The method chosen does not matter, since it will be the skill and experience of the surgeon that will make the difference. Therefore, you are invited to discuss with your surgeon his experience of the various existing techniques.

How long is the hospital stay?

You will be hospitalized the same day of the intervention or the day before, and the duration is from 24 hours to a few days, if there is no complication.

How long is the surgery?

The duration of the operation is 2 to 4 hours. If your surgeon tells you that he can perform this procedure in less than 2 hours, get a second opinion.

Will I be asleep?

Yes, prostatectomy takes place under general anesthesia. You will, therefore, be asleep during the whole operation.

What should I do to prepare?

If you want to be ready for surgery to get rid of prostate cancer, make sure you ask the doctor all your questions and tell them about your concerns, especially about possible complications. as well as the long-term side effects on your sex life and continence. In addition, be active, do your Kegel exercises to strengthen your muscles which help control your content and eat a healthy diet.

The day before surgery, stop drinking, eating and smoking at midnight.

What happens after surgery?

During the operation, you will be fitted with a catheter to drain your urine into a collection bag. This probe will remain in place for at least a week to allow the internal sutures to heal. A nurse will explain how to take care of the catheter. She will also teach you the breathing and mobilization exercises that you will have to practice after the operation.

How will my recovery take place?

Normally, recovery from prostate cancer surgery takes six to eight weeks. During this time, your CLSC will follow up on the probe, the dressings and the removal of staples if you have them. If you have a persistent fever over 38°C, go to the emergency room. Have a good recovery.
Conference that might interest you (in French only)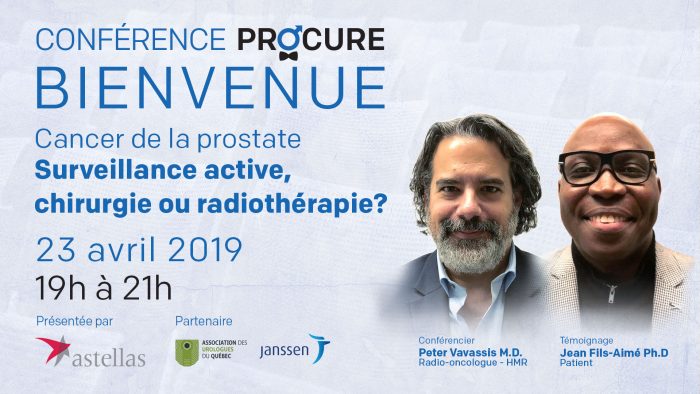 Pages of our site that might interest you
Want to know more? Just click on one of the links below.
Prognosis and survival
All about radical surgery
Choosing your treatment
PROCURE news that may interest you
Each week, we publish a blog article. Here are a few for you.
Did you say prostate cancer?
I want to postpone my treatment ... Is it wise?
Written by PROCURE. © All rights reserved - 2020