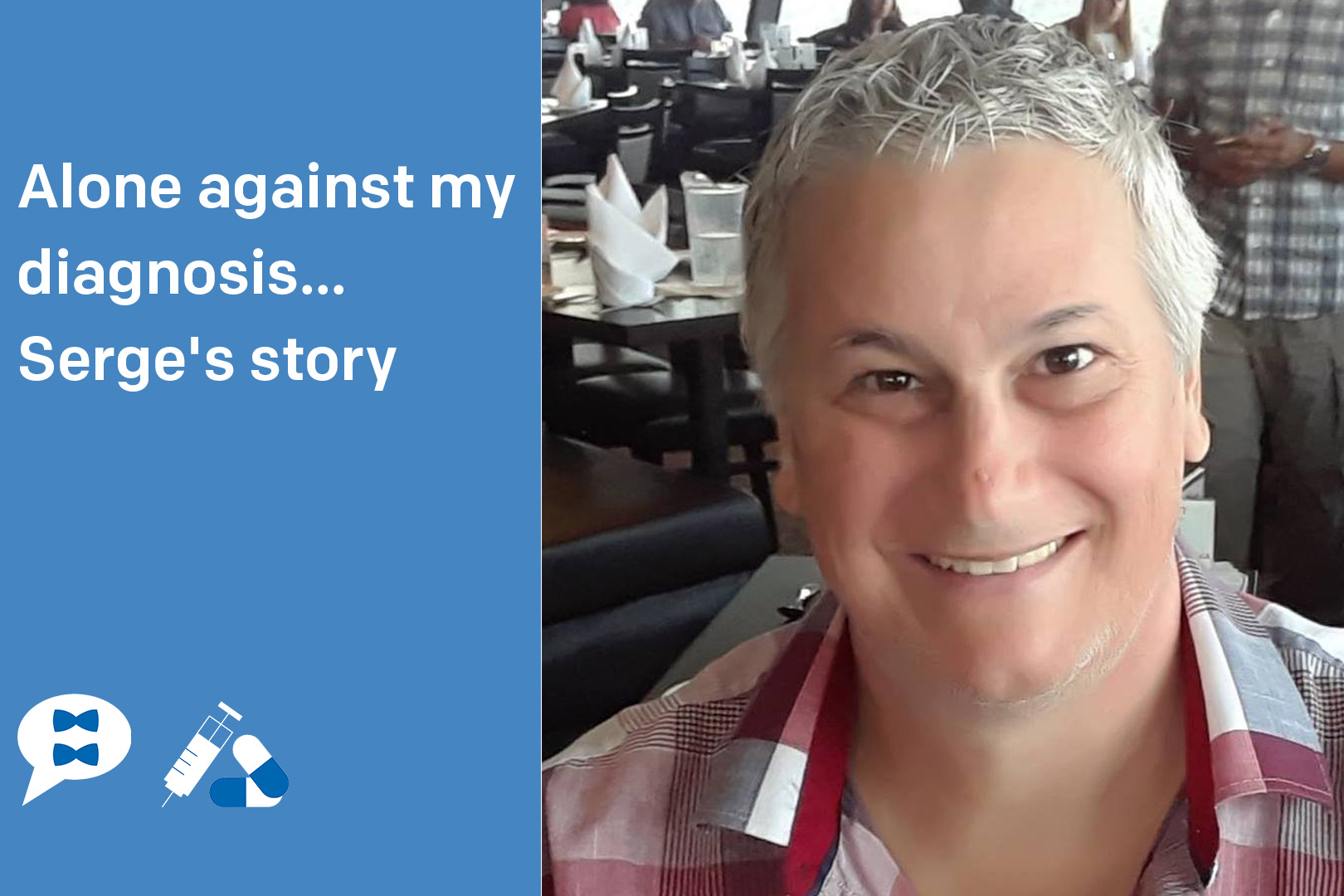 September 12, 2019
Alone against my diagnosis… Serge's story
Alone against my diagnosis… Just like Martin, Serge learns that he has prostate cancer in the prime years of his life, that is to say at the beginning of his fifties (yes age… is relative). What you need to understand is that men who receive a prostate cancer diagnosis are usually much older, well in their sixties (65 on average). When a man calls PROCURE to speak to one of our specialized nurse in uro-oncology, one of the first question we ask them is ... how old are you? And one of the first reaction we have when we learn that he's just turned 50 is… you are very young!
---
The first part of Serge's testimony
"We are in 2011, I am 50 years old, I am in great shape, in a relationship, with a full-time job. Everything is fine, Madame la Marquise, except for one thing: for a year now, my sperm has been trickling out when I ejaculate. I am surprised, a little worried, but not enough to consult right away. Otherwise, I have no symptoms, so nothing urgent that would lead me to consult... especially knowing that I would be sitting in a hospital emergency waiting-room for a full day before seeing a doctor. No thanks, not for me!
I finally talk about it to my family doctor, who, following the results of my blood test, tells me that with a PSA level of 21, I have to see a urologist... and that is urgent, she says. I meet the urologist referred by my doctor; we repeat all the tests (PSA, digital rectal exam, scan, etc.), and with a PSA level that just won't go down, I have no choice but to do a biopsy. My diagnosis falls on my head like an avalanche of rocks or whatever can knock you out of your socks. Let's say that the damage was already done. Put yourself in my place: all my biopsy samples were cancerous with a Gleason score of 10/10, stage 4 cancer, and, according to my urologist, three years max to live. I lost consciousness on the spot. At the same time, which means at the time of diagnosis, my girlfriend leaves me. She ends our relationship, illness not being her cup of tea.
So, I am told that I have three years to live and that I must have radical surgery immediately. I am told, if you wake up with a catheter, you're fine. Otherwise... Of course, when I woke up, I wanted to know what' was going on. And what I was told was exactly what I didn't want to hear: metastases to the lymph nodes, including a tumor the size of a golf ball. Ouch! As for the catheter, I forgot to ask the question. Let's say, I didn't care. And thinking back on my urologist, how he announced the little years to live I had, empathy was not his cup of tea either, like my girlfriend. I was literally collapsed.
With a negative bone scan result in hands (the only good news), I started hormone therapy, without success. Then, I went through a succession of treatments (tablets, injections) that again, had no effect in controlling this crab. The ax fell when my urologist announced that we are going for chemo to get rid of it. It was at that time that I contacted PROCURE, who invited me to go for a 2nd opinion on whether all treatment options before proceeding with chemo had been exhausted.
Looking back, getting a second opinion was the best decision of my life. Having a second opinion, a new look at treatment options and clinical trials available for me, combined with patience and encouraging words, can change the course of your life. I know something about it. "
New life
"I went from lethal cancer to locally advanced cancer following a new battery of tests at the MUHC. I was a candidate for radiotherapy treatment, which I immediately accepted. Hope was there. Love also. I met an angel, who accompanied me to my 36 radio treatments. In no way taken aback by my cancer and all the side effects of the treatments, she was and still is always by my side. She is my life partner, my accomplice, my lover.
I haven't been able to completely kick the intruder out trying to squat my body yet, but we're watching. Currently under research protocol for the next 5 years, I respond wonderfully to my treatment: my PSA is stable and at zero, I have only a minimum of side effects, and no symptoms or pain.
Despite some bouts of anxiety, I am finally serene in the face of this disease and I bite to the maximum in life, mine. "
Serge
Next part: Welcome to life
---
Take the time to visit each of our pages on this website, as well as our YouTube channel, in order to get familiar with the disease with our expert lectures, our section on available resources, the support that is offered to you.
Do you have any questions or concerns? Above all, do not hesitate. Contact us at 1 855 899-2873 to discuss with a nurse specializing in uro-oncology. It's simple and free, like all our services.
Pages of our site that might interest you
Want to know more? Just click on one of the links below.
Prognosis and survival
I have advanced cancer
PROCURE news that may interest you
Each week, we publish a blog article. Here are a few for you.
Alone against my diagnosis… Serge's story
Welcome life… Serge's story
Investing in your health, a must… Martin's story
Quite a shock… Martin's story
Written by PROCURE. © All rights reserved - 2020