For a healthy prostate, prevention is the best remedy, and exercise, such as the benefits of walking, can be one of your great allies. Essential in the role of your fertility, the prostate can be a small annoying gland. It can be prone to painful infections or inflammation (prostatitis), hypertrophy (BPH) which increases the frequency of your trips to the toilet, and cancer.
Although relatively few studies have examined the impact of exercise specifically on your prostate health, those that suggest regular physical activity can be good for your prostate are encouraging.
3 ways exercise like walking helps your prostate according to a Harvard Medical School article
BPH prevention – In a Harvard led Health Professionals Follow-up Study on 3,743 men, men who were more physically active were less likely to suffer from BPH. Even low- to moderate-intensity physical activity, such as walking regularly at a moderate pace, yielded benefits. Walking an additional three hours a week was associated with an extra 10% reduction in risk, researchers found.
The researchers also found that men who spent the most time watching television and videos (41 hours or more a week) were twice as likely to develop symptoms of BPH than those who watched the least (5 hours or less). And interestingly, spending more time on the couch watching television led to more cases of BPH, regardless of how much time was spent exercising.
Treatment of prostatitis – Italian researchers conducted a randomized controlled trial (considered the gold standard of medical research) in men with chronic prostatitis. Those in the aerobic exercise group walked briskly three times a week. A comparison group did non-aerobic exercise (leg lifts, sit-ups, and stretching) three times a week. At the end of 18 weeks, men in both groups felt better, but those doing aerobic exercises reported less prostatitis pain, less anxiety and depression, and better quality of life.
Progression of prostate cancer – In a study of more than 1,400 men diagnosed with early-stage prostate cancer, men who walked briskly (not leisurely) for at least three hours a week were 57% less likely to see their cancer progress than those who walked less often and less vigorously. In an analysis from the Health Professionals Follow-up Study, men diagnosed with localized prostate cancer who engaged in vigorous activity at least three hours per week were 61% less likely to die from the disease than men who were doing vigorous activity for less than an hour a week.
In addition, two serious and controlled clinical trials are currently underway in patients with advanced prostate cancer (1) and those under active surveillance (2), the assumption being that exercise increases overall survival in the first case and delays the transition to treatment in the second case.
Where to start
A well-balanced exercise program that includes half an hour of physical activity every day or most days of the week offers strong health benefits. And you don't need to do this activity all at once; you can divide it into three 10-minute segments.
As always, talk to your doctor before you start an exercise program. He or she can help you develop a routine based on your health and fitness.
---
Discover our new animated videos
Discover three new animated videos, each equally unique and original from one to the other. Be on the lookout!
Here is the first one – Symptoms, Risk and Screening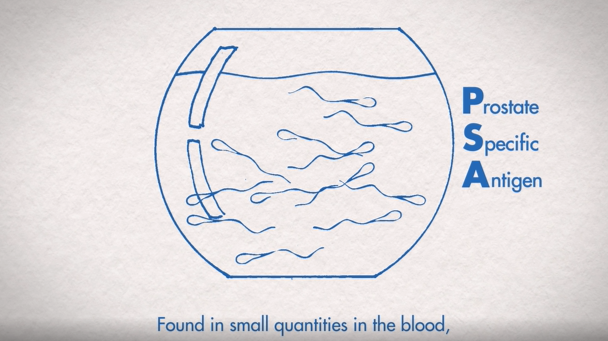 ---
Take the time to visit each of our pages on this website, as well as our YouTube channel, in order to get familiar with the disease with our expert lectures, our section on available resources, the support that is offered to you.
Do you have any questions or concerns? Above all, do not hesitate. Contact us at 1 855 899-2873 to discuss with a nurse specializing in uro-oncology. It's simple and free, like all our services.
Pages of our site that might interest you
Want to know more? Just click on one of the links below.
Nutrition and Healthy Weight
Can we prevent cancer?
Diseases related to the prostate
The latest PROCURE news that might interest you
Every week we publish a blog article. Here are some we chose for you.
Men's Health – 10 Mistakes Not To Do
6 Tips To Keep Your Prostate Healthy
What Your Urine Can Tell You
Sources et references
Harvard Health Publishing from Harvard Medical School.
BPH and exercises
Gann PH, Hennekens CH, Longcope C, et al. A Prospective Study of Plasma Hormone Levels, Nonhormonal Factors, and Development of Benign Prostatic Hyperplasia. Prostate 1995;26:40–49. PMID: 7531326.
Dal Maso L, Zucchetto A, Tavani A, et al. Lifetime Occupational and Recreational Physical Activity and Risk of Benign Prostatic Hyperplasia. International Journal of Cancer 2006;118:2632–35. PMID: 16380994.
Platz EA, Kawachi I, Rimm EB, et al. Physical Activity and Benign Prostatic Hyperplasia. Archives of Internal Medicine 1998;158:2349–56. PMID: 9827786.
Prostatitis and exercices
Giubilei G, Mondaini N, Minervini A, et al. Physical Activity of Men with Chronic Prostatitis/Chronic Pelvic Pain Syndrome Not Satisfied with Conventional Treatments — Could It Represent a Valid Option? The Physical Activity and Male Pelvic Pain Trial: A Double-Blind, Randomized Study. Journal of Urology 2007;177:159–65. PMID: 17162029.
Cancer progression
Richman EL, Kenfield SA, Stampfer MJ, et al. Physical activity after diagnosis and risk of prostate cancer progression: data from the cancer of the prostate strategic urologic research endeavor. Cancer Res. 2011 Jun 1;71(11):3889-95
Clinical trials underway
Newton RU, Kenfield SA, Hart NH, Chan JM et al. Intense Exercise for Survival among Men with Metastatic Castrate-Resistant Prostate Cancer (INTERVAL-GAP4): a multicentre, randomised, controlled phase III study protocol. BMJ Open. 2018 May 14;8(5):e022899.
Galvão DA, Hayne D, Frydenberg M, Chambers SK et al. Can exercise delay transition to active therapy in men with low-grade prostate cancer? A multicentre randomised controlled trial. BMJ Open. 2018 Apr 20;8(4):e022331.
Adapted by PROCURE. © All rights reserved – 2020